The past ten years have been tumultuous for SSMU. In 2014, the union was attracting scandals, starting with its failed building fee renewal and then the invalidation of the president's election. Three years later, SSMU was forced to create a sexual violence policy following sexual violence allegations against the VP External. In 2018, there was a sudden and uncommunicated University Centre closure and a contentious collaboration between SSMU and the Association for the Voice of Education in Quebec (AVEQ). Current undergraduate students may recall the president's leave of absence for the majority of his term in 2021, and the allegations of racism and worker oppression that surfaced in 2022. More of these conflicts can be found in the 2021 McGill Student Union Democratization Initiative Policy, which thoroughly tabulates instances of elected representative misconduct, undemocratic practices, and lack of student participation in General Assemblies and referendums. 
Despite the organization's disappointing track record, every March hopeful SSMU executives continue to envision a brighter tomorrow. In studying the past ten years, we have seen platforms fall in and out of favour, such as political neutrality and financial reform. We have also seen election campaigns detail projects that take years, rather than a single term, to come to fruition: notably, a fall reading week and the sexual violence policy, which cropped up many times before being implemented – or, in the case of the fall reading week, partially implemented. 
Process and Caveats
In the following piece, I look at the promises SSMU presidential candidates have made in the last ten years at a quantitative level. Although I was able to access pen sketches dating back a few years, candidate platforms have not been systematically archived. As a result, the keywords I used were plucked from endorsements written by the Daily, The McGill Tribune, and The Bull & Bear. When a candidate attaches a key tenet to their platform, I record the tenet, in a phrase of one to four words, in a spreadsheet that can be accessed on the online version of this article. I select the six most stressed tenets from each candidate unless the candidate has fewer than six tenets. The project is to record the trajectory of the past ten years – to identify promises that resurface time and again – and to contemplate why some concerns are never resolved.
I have merged the terms "sexual assault policy" and "sexual violence policy" into "sexual violence policy" given the recent semantic shift to using the word "violence" in place of "assault." Some candidates mentioned a desire to hold office hours without using that phrase – I took the liberty of assuming these candidates referred to office hours. My only other amalgamation is "marginalized groups." Some candidates mentioned specific demographics – for instance, women or racialized students – and since I was interested in capturing the broader trend of advocating for marginalized demographics as a platform, I grouped all relevant uses into the term "marginalized groups."
I acknowledge that secondary sources are not an ideal way to capture the platforms of candidates. There is the potential for bias on behalf of student newspapers, especially when it manifests in censorship or the undue stressing of a relatively minor tenet. This issue has been somewhat mitigated by using multiple sources, but it will not disappear entirely.
The platforms of candidates sometimes change, and one could not expect to capture all the nuances of a platform in a spreadsheet. That being said, I was surprised while reading the platforms at how easily the candidates' ideas could be collapsed into a select few phrases. It seems there has been a consistent use of one-word values – take our trio of sustainability, accountability, and communication – without elaboration. 
Results 
In ten years, there have been 25 presidential candidates, meaning each election has had an average of 2.5 students running for president of the union.
There are 99 tenets in total. Some are quite specific, such as "restore McGill's institutional reputation" (2014, Johnson) and "group therapy sessions" (2016, Ger). Others seem like peculiar strategies: I think of the mySSMU app proposal from Darshan Daryanani (2021), or the 2015 candidate Alexei Simakov, who said to the Daily that rather than politics, he wants to focus on issues that have broad student support, such as how cold the McLennan Library is. (Another gem from Simakov: "I'm not someone who's been engaged with student government at any point, I've always been the opposition.")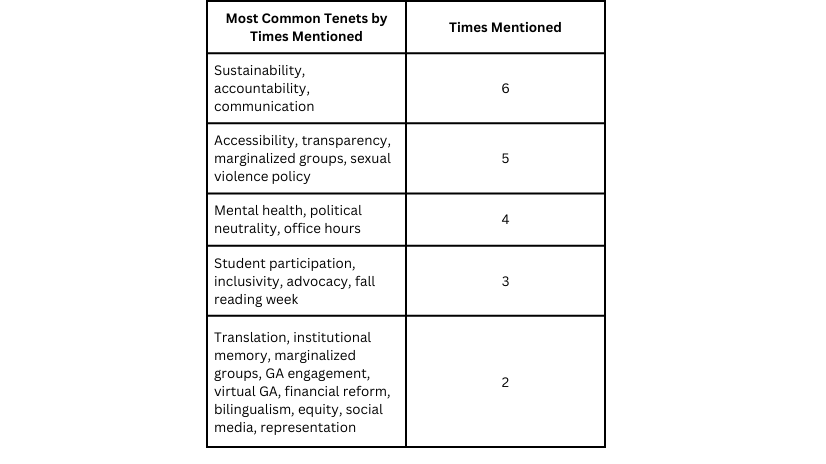 The values that come to the forefront during presidential campaigns are markers of broader issues on campus. For instance, two out of the four mentions of a proposed sexual violence policy  take place in 2017, following the allegations against the 2016 VP External. This increase in attention can also be seen in action; in 2018, SSMU hired a sexual violence policy project coordinator and created the Gendered and Sexual Violence Policy (GSVP). On the other hand, it is disheartening to note that the creation of a sexual violence policy was proposed as early as 2015. The candidate who proposed the policy lost, and the lack of a sexual violence policy presumably contributed to SSMU's inaction after the allegations. This year, presidential candidate Alexandre Ashkir aims to expand the grocery program, and candidates for other SSMU positions have similarly voiced concerns about food insecurity, a hot-button issue on campus spearheaded by Let's Eat McGill. 
It's obvious that 2016–17 was an especially tense year from reading the 2017 candidates' platforms. Tojiboeva started by acknowledging student distrust, Ogendeji's platform centered on "rebuilding trust," and Shannon wanted to introduce more opportunities for students to voice their concerns.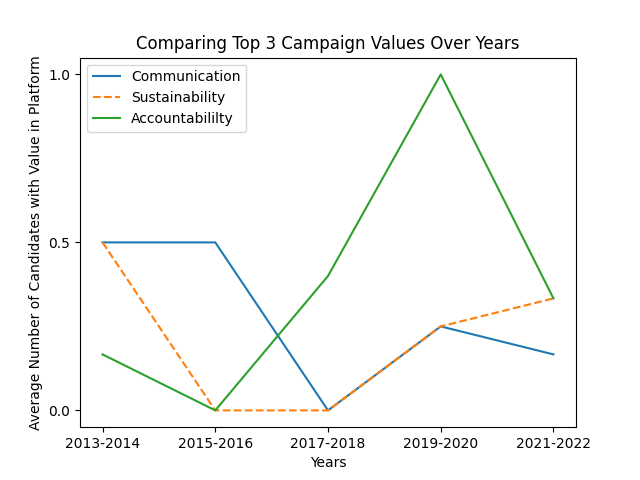 One key takeaway from the timeline of the three most common platform promises is that they don't follow a linear path. That being said, we see sharp increases in concern over accountability in 2019 and 2020, with every single candidate mentioning accountability. I hypothesize that this is in part due to controversies surrounding a free trip to Israel offered to SSMU executives and a failed General Assembly. Communication falls in favour slightly over 2015 to 2022, perhaps due to its vagueness. Sustainability is in a recent upward trend since 2018, and might be resurfacing in popularity due to increasing interest in environmental  sustainability.  Now, we take a look at the less popular, but perhaps more telling,  values.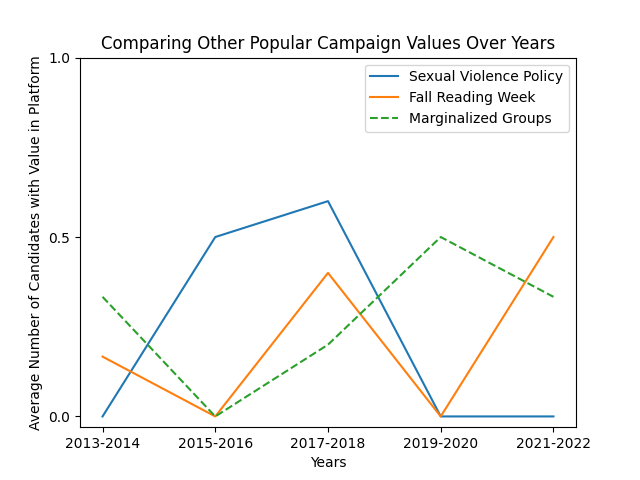 Here, we see the partial success of the fall reading week promise, and we can track the advocacy work toward it; fall reading week is mentioned in 2018, 2019, and 2020. The three consecutive years of effort accentuate the inability of SSMU presidents to achieve concrete action within their one-year terms. They also suggest that candidates often borrow from previous candidates' platforms, perhaps because they are aware that certain issues were important to previous voters.
Even when participation in the SSMU end-of-year elections was higher, attendance at general assemblies (GAs) was a concern for candidates, first being mentioned by unsuccessful candidate Chris Bangs in 2013. Interestingly, the winner, Katie Larson, held a staunchly opposing stance. She did not plan to modify the structures of either the GA or of SSMU itself, and she was decidedly apolitical. Perhaps students saw her as a more realistic candidate than the Divest McGill activist Bangs, or they didn't see GA participation as important to campus life. 
Concern for marginalized groups has seen a consistent increase over time. This is perhaps unsurprising, as issues of racism, sexism, and queerphobia have broken into mainstream discourse. We can also track the slow creation of the sexual violence policy over the years. Funnily enough, there is one mention of interest in a sexual violence policy after the sexual violence policy was created in 2017.
How does a candidate's platform correlate with their success at the polls? Considering that there have been ten winners, I filtered the successful candidates from the rest and reran the program. Unsurprisingly, similar values rose to the top.
Sustainability, accountability, and communication are over-represented in the winning faction (3/10 compared to 3/15), while prioritizing office hours is less popular among winners (1/10 compared to 3/15). Half of politically neutral candidates win their campaigns. The first mention of it came from Larson in 2013 (won), then Simakov in 2015 (lost), then Sinder in 2016 (lost), and then Mansdoerfer in 2018 (won).
 Perhaps most notably, all candidates to mention fall reading week won their campaigns, highlighting the chokehold the issue had on McGillians' hearts (while also being a concrete and feasible goal). 
Conclusion
This year's SSMU presidential election is different from any of the previous elections analyzed. We have no choice between platforms and only one voice to define the upcoming academic year. For the first time since SSMU Elections has kept accessible records on election results, a presidential candidate is running unopposed.
Although the results of previous elections reveal a steady stream of nearly identical, often one-worded campaign promises, and although the repetition of these platforms suggests that SSMU presidents are not entirely able to deliver on their assurances, a diversity of voices is essential to a functioning democratic student society.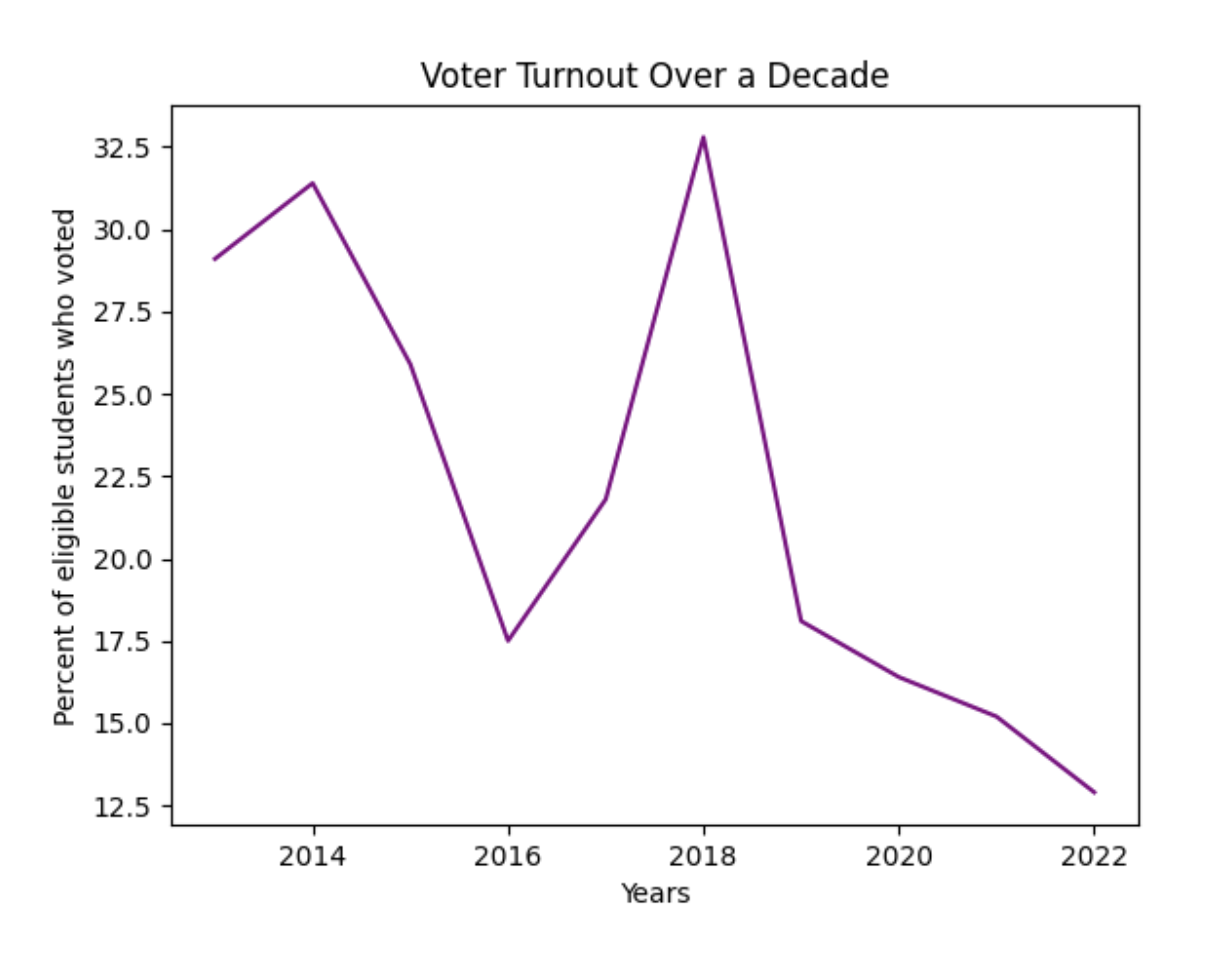 2022 saw the lowest voter turnout since SSMU election turnout was recorded in the elections archive in 2012. The turnout was only 12.9 per cent of students voting. The 2023/2024 presidential candidate running unopposed is the most recent symptom of mistrust in and apathy toward SSMU. We can't fault students: SSMU's rocky history, evidenced by its inaction, by executive missteps, and by a lack of diversity in candidate platforms, creates a (perhaps not incorrect) impression that voting is merely an illusion of choice. A deeper dive into issues of student governance which lead to student apathy can be found in clumsy voting portals, insufficient training for incoming executives, and unpaid labor are some of the factors causing students to give up on SSMU. 
Student participation is mentioned as a platform in three of the campaigns I looked at, engagement in two more. GA engagement is also mentioned twice. It is disheartening to realize that these were central platforms even in times of higher participation and engagement.
Future Work
This sort of analysis is ripe with potential. The main concern is the small sample size; a sample of ten is not large enough to conduct most statistical inquiries, such as whether any platforms are able to predict the success of a candidate.
While I'm not qualified to try to solve the incredibly complex issue of voter apathy, I suggest that more concrete platforms, along with recognition of multi-year projects and an attention to our student government history, are essential in rebuilding trust in SSMU.