In 2022, Canada experienced its most rapid yearly population growth since Confederation in 1867. Statistics Canada notes that the country's population grew by 362,453 people (0.9 per cent) between July and October alone. What's behind this recent population boom? About 75 per cent of Canada's population growth comes from immigration. The country welcomed a record number of 432,645 new permanent residents throughout the year, hitting its yearly target and exceeding 2021 numbers (401,000). If considering temporary residents in immigration estimates, this number balloons to 698,222. 
The number of permanent residents welcomed in Canada each year is based on the annual immigration levels plan tabled in Parliament. According to the 2023-2025 Immigration Levels Plan tabled on November 1, 2022, we should expect these targets to increase to 465,000 new permanent residents in 2023, 485,000 residents in 2024, and 500,000 residents in 2025. This intended long-term growth reflects the federal government's plan to increase immigration numbers each year to grow its post-pandemic economy, counter an aging workforce, and address labour shortages in construction and factories.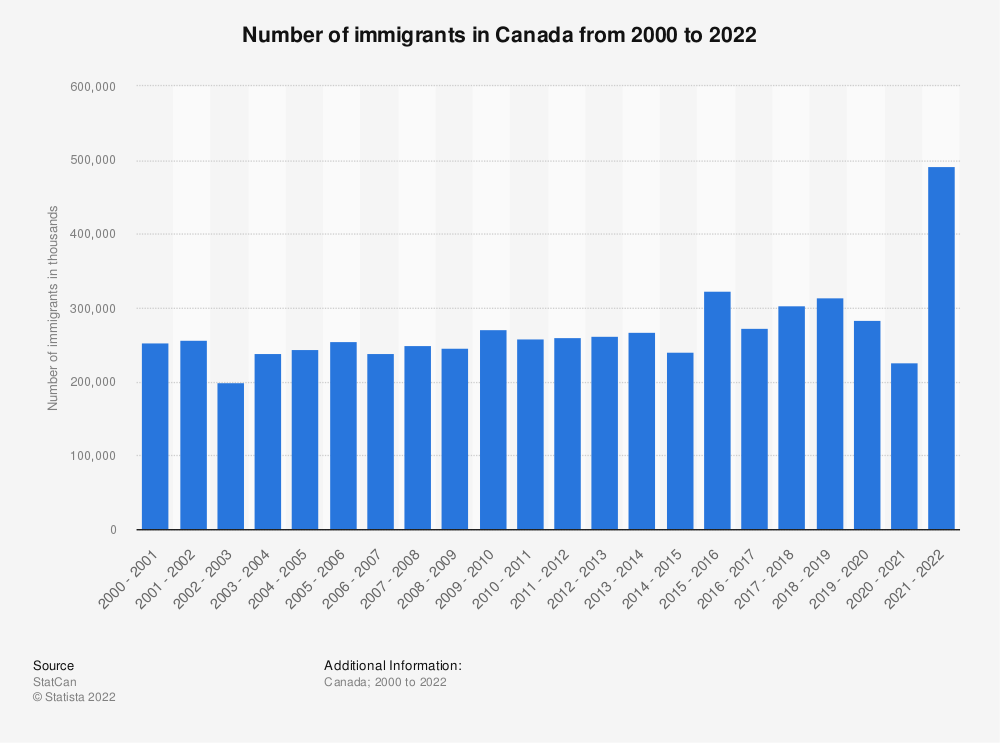 As labour jobs are in need of workers, immigrants have mostly filled the spots, and now account for almost 100 per cent of Canada's labor force growth. Worldwide geopolitical challenges have also accelerated immigration to Canada; in March, the federal government launched a new, fast-tracked, temporary residence pathway to welcome those fleeing the war in Ukraine. As reported by Immigration, Refugees, and Citizenship Canada (IRCC), providing support to Ukraine is also a way for Canada to reinforce and display its commitment to democratic ideals. A similar plan has been implemented for Afghan asylum seekers, intending to welcome at least 40,000 Afghan refugees. However, efforts to increase the number of immigrants entering the country have also increased wait times and delayed at least 1.3 million immigration applications by the end of July. In its Fall Economic Statement, Ottawa has thus committed to increasing funding to the IRCC by an additional $50 million in 2022-2023, to "address ongoing application backlogs, speed up processing, and allow skilled newcomers to fill critical labour gaps faster." 
According to Statistics Canada, Ontario has seen the largest number of immigrants with 227, 235 new temporary residents in the province, followed by British Columbia, with 83,200, and Quebec, with 62,798 (see visual 2). Although significant disparities can be observed across provinces, the numbers are proportional to each province's initial population size. Ontario is Canada's most populated province, followed by Quebec and British Columbia.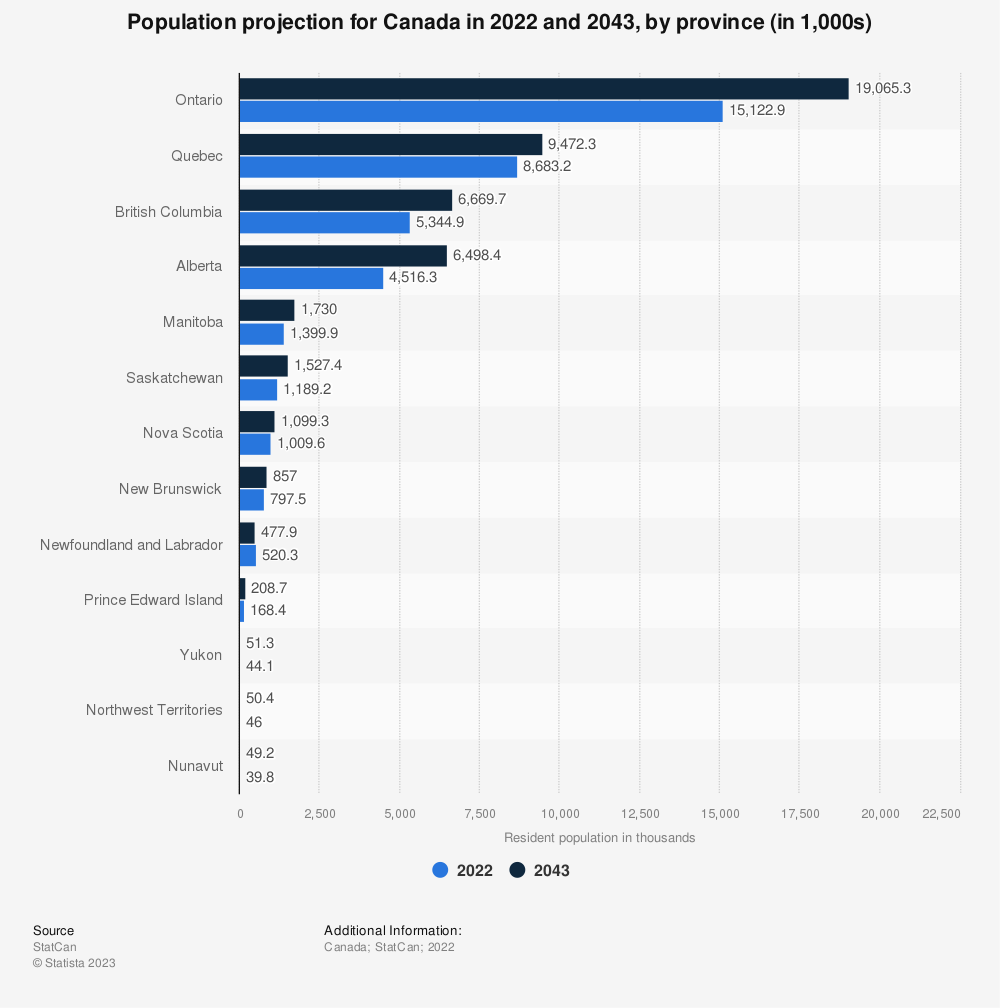 Similar to the federal level, each province sets its immigration targets. Caps on permanent residency granted to immigrants have been debated among Quebec's political parties. During the buildup to the 2022 Quebec provincial election campaign, the incumbent CAQ promised to maintain the current immigration policies, limiting the number of permanent newcomers to 50,000 per year; the Liberals defended a limit set to 70,000, and Quebec Solidaire hoped to increase this capacité d'accueil to 80,000. Behind those targets, francophone immigration has also been a crucial element in establishing Quebec Immigration Plan for 2023, as one of the CAQ's main concerns is to preserve and protect the French language in Quebec. The report shows that the Ministry of Immigration, Francisation and Integration aims for up to 66 percent of French-speaking immigrants in 2023, as part of the CAQ's promise to have 100 per cent of francophone newcomers to the province by 2026.
Nevertheless, Quebec's permanent immigration numbers have remained relatively stable throughout the years. They are expected to continue as the plan for 2023 reports that the province could properly admit up to 52,500 new permanent residents in 2023. However, the reality of immigration in the province is harder to estimate. Official statistics show that the 62,798 newly permanent residents in Quebec already exceed the initial target of 50,000 in an attempt to make up for a loss in immigration during the pandemic. Moreover, temporary immigrants also constitute a significant part of Quebec and Canada's population and heavily contribute to the labour market and the country's economy. While increasing the number of permanent newcomers sought to address labour shortages, other measures have been implemented to further integrate temporary workers in the market. As a pilot project, the 20 hours limit on the number of hours worked for international students was lifted from November 15 to December 31, 2022.  The government notes that this would allow 640,000 international students throughout the country to work additional hours, and added that "this temporary change reflects the important role international students can play in addressing our labour needs while continuing to pursue their studies." Although international students have generally welcomed this change, some have approached it with skepticism and suggest that more could be done to address the complex school-work-life balance that many students already struggle with.