This feature aims to explain various aspects of the police. It discusses the history of the police and the current situation in order to better explore alternatives to policing.
History
Pre-Colonial
Conceptions of justice differ between Indigenous and settler societies. While settler conceptions of justice have historically focused on preventing and punishing what they consider "deviant" behavior to make the person in question conform, Indigenous justice centers around maintaining and restoring peace within the community. Indigenous justice also emphasizes reconciling the accused not only with whoever has been wronged, but with their own conscience. The concept of "policing" as it is currently used does not apply to Indigenous justice; Indigenous processes of justice are much more community-oriented and -effected than they are in today's settler societies. In most Indigenous communities, decisions about justice were made according to community consensus: elders regularly taught community values, mediated disputes, reconciled offenders and victims, and offered compensation for loss. Law was based largely on unwritten traditions, passed on orally through generations. Furthermore, networks existed to share traditional conceptions of justice and respect. These served as important preventative methods to reaffirm the importance of one's relationship with the community and with the world, of maintaining peace, and of preventing injustice. These foundational mechanisms of preventative justice engrained within the culture played a large role in upholding justice.
The Community of Kahnewake, located about fifteen kilometers from McGill's campus, is currently home to around 8,500 people of the Kanien'keha ('Mohawk') Nation. This community was part of the Rotinohshonni (or Haudenosaunee) Confederacy, which united five nations with a focus on ending war and mediating conflicts, and strove for "reconciliation, reason, compromise, and consensus." Decisions within the Rotinohshonni were made based on consensus, aiming for peaceful decision-making and conflict resolution. During processes of resolving wrongdoings, the whole community worked towards "settling the matter expeditiously with the victim's family to heal the breach of social order" and "contributed to the injured person's family as a token replacement for what had been lost." Each situation of conflict resolution was based on the four principles that made up the Rotinohshonni conception of justice: "reason, persuasion, satisfaction, and compensation."
Settler
Indigenous justice practices were disrupted, attacked, and displaced by the invasion of settlers and settler notions of law. Colonial ideas of "policing" came along with French and European colonizers, and, according to European models, a watchman system was established in 1651 in Quebec City. In 1840, Montreal established its police force, and the Royal Canadian Mounted Police (RCMP) was created in 1873. The RCMP based its organizational model upon French traditions, as it was based more on military organization and strong leadership than on traditional policing.
The history of the introduction of settler ideas of justice and policing is intertwined not only with colonialism and violence against Indigenous populations, but also with the protection of capital and private property. Montreal's history of policing goes back to the creation in 1663 of a volunteer militia made up of 120 men, which was charged with protecting farmland outside the walls of Ville-Marie rather than policing crimes within the settlement. For the next century, Montreal was policed by civilian militias, whose main goal was to protect the stores of the city's growing merchant businesses. After the establishment of the City of Montréal in 1843, neighbourhood police, known as quarteniers, were created to keep watch over city districts. The Montreal Police Department was founded in 1865, expanding and specializing its duties as the city's population increased. While earlier iterations of police forces in Montreal had been limited to watchmen duties and "chasing thieves," the police force grew to include special sections including an Antisubversive Squad, Traffic Section, Major Offences Section, and a bafflingly-named "Morality Squad" (ironically, but not particularly surprisingly, four cops on Montreal's Morality Squad were arrested in 2016 on accusations of sexual misconduct and perjury).  The Service de police de la communauté urbaine de Montréal was established in 1972, and consolidated all policing forces on the island of Montreal into one. This island-wide police force changed its name to the Service de police de la Ville de Montréal (SPVM) in 2002.
As more formal policing organizations grew, they relied upon both "fostering voluntary compliance with the desired order" and "forcibly insisting on it." Today, public police forces in Montreal are "armed paramilitary services charged with the general responsibility of social control."
As protectors of a status quo within society, police play as an important role in reinforcing social, political, and economic norms, often through "implicit or overt threat of force," which is the "ultimate coercive resource available to police." The function and structure of Canada's police forces have also been strongly shaped by a focus on police surveillance of the population and intelligence gathering, as the grid system of patrol was designed to create the most effective and wide-reaching net of police surveillance possible.
Now
Contemporary Issues
Police forces in Canada have had dark histories since the incursion of European colonizers, and the 20th and 21st centuries have been no different.
During 1969, over 200 students of the Sir George Williams University in Montreal (now part of Concordia University) peacefully protested against the university's dismissal of complaints of racism. The complaint was lodged by Black Caribbean students who accused a professor of racism towards them. Police were called in to take control of the situation on February 11 as students peacefully occupied the ninth floor of the university's Hall Building. At this point, what had been a peaceful demonstration became violent, as riot police broke down doors, a fire was started, and computers were destroyed. Following this event, the professor accused of racial discrimination, who had been temporarily suspended, was reinstated. The police blamed the student occupiers for the property damages totaling $2 million, despite the students' claims that police had started the fire as a way of flushing students out of the building without entering themselves.
Between 1950 and 1983, the Royal Canadian Mounted Police (RCMP) used the top-secret PROFUNC (Prominent Functionaries of the Communist Party) program to surveil Canadians who were considered potential Communist sympathizers. The program included a blacklist of around 66,000 names of suspects, detailed plans for their potential arrest and indefinite internment, and minute details about each person, including their appearance, family, and potential escape routes from their homes. PROFUNC focused disproportionately on people who were politically leftist, radical, queer, or racialized.
Police have been criticized for their actions during the 2012 student protests. Around 500 civilians were arrested on May 23, 2012 by the SPVM and were not informed of the reasons for their arrests. They were detained in buses for three to eight hours and were not given access to a bathroom for the length of their detainment.
Policing in First
Nations and Inuit Communities
Modern-day policing within Indigenous communities is based largely on settler/colonial conceptions of policing. For example, the Kahnawake community is policed by the Kahnawake Peacekeepers.They are trained like RCMP officers, the only difference being that at the end of training they do not swear allegiance to the queen. Communities that adhere to these methods of policing are severely underfunded. As a result, they have no freedom or funds to explore alternatives to settler policing. Often though, police "support" is sent from nearby stations in order to "handle" issues within Indigenous communities. This "support" is often in the form of settler police reinforcement and often times the police do not even speak the community's language. However, other communities have decided to form different modes of "policing" within their communities according to their long-standing traditions and conceptions of justice. The Bear Clan Patrol in Winnipeg, for example, uses nonviolent techniques of to help ensure the safety of their Winnipeg's North End. Other communities, such as the city of Chiliwack, provide units from the RCMP like The Upper Fraser Valley Regional Detachment First Nations Policing Section to police reserves. This organization extends its services to a variety of communities in British Columbia and serves to provide culturally sensitive approaches to policing, such as restorative justice.
As of November 15, Minister of Public Safety and Emergency Preparedness Ralph Goodale has announced that the Canadian government will allot $88.6 million over the period of seven years to focus on making the work environment of First Nations and Inuit police officers as safer. However, providing funds for more police officers will not help Indigenous communities. The police will always remain an oppressive force, especially within Indigenous communities. Adam Olsen, Green Party MLA of the Saanich North and the Islands' electoral district, says that providing money for more police officers does not solve the issue of distrust First Nations people have in the police. Olsen, who is a part of Tsartlip First Nation, states, "when we are talking about the restoration of Indigenous languages, what we are talking about is investing in our culture of people. You can't replace that with the addition of more police officers." Although many people see the increased funding as an improvement, it still keeps police in power: as former Indigenous police officer Lloyd Alcon states, "we want to cut those ties of having to keep relying on everybody and actually build." Indigenous communities should not have to constantly rely on outside help to define and police their nation; only autonomy and the allowance of alternative solutions to police can help.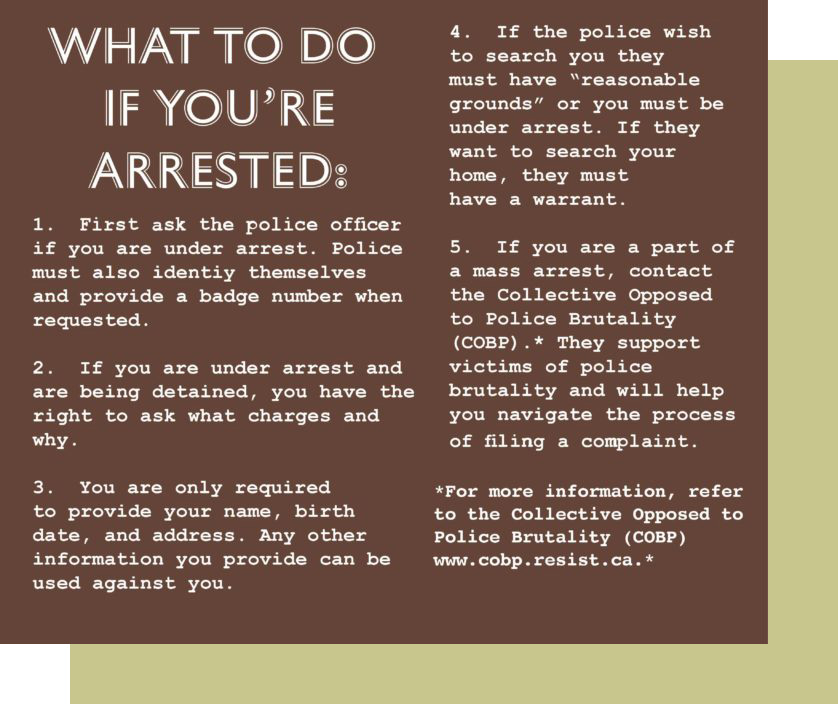 Bear Clan Patrol
"Reclaiming Our Streets"
The Bear Clan Patrol is a volunteer safety group. Initially operating in the mid-1990s, the Bear Clan Patrol was resurrected after the death of Tina Fontaine in 2014. The group operated in Winnipeg's North End, a neighbourhood with one of the highest densities of urban Indigenous populations in Canada. The group was re-formed almost immediately after news of Fontaine's death; as co-founder James Favel told Vice in 2017, "people were crying out for direct action, boots on the ground, no more cops—to do something."
Volunteers walk through the neighbourhoods, splitting into groups to cover ground and changing their route nightly. They respond to the needs of the people they encounter and give out donations. If someone is visibly intoxicated, they make sure that the person can get somewhere safe. They also help diffuse and de-escalate situations. Increasingly, they respond to drug overdoses. To respond to the latter, many Bear Clan Patrol members were trained to administer naloxone, a drug which can reverse overdoses, and volunteers carry kits on them. Bear Clan Patrol members are also trained in first-aid. However, when the situation is severe, the Bear Clan Patrol calls on paramedics.
The Bear Clan Patrol works, in part, by having established relationships with people in their neighbourhood and by building public trust. By knowing members of the community and by building ties over several years, the Bear Clan Patrol is able to help protect its community without dealing with the police.
The Bear Clan Patrol offers a clear alternative to policing. It shows how communities can build networks to protect themselves, without relying on the police. This autonomy is particularly important for Indigenous communities, who historically have been and who continue to be antagonized by police. The Bear Clan Patrol's model has spread across the country: similar groups have formed in Regina, Thunder Bay, Kenora, and Toronto.
Future
"Asking the question 'what are alternatives to policing?' is to ask the question 'what are alternatives to capitalism?'" said Luis Fernandez, Professor of Criminology and Criminal Justice at Northern Arizona University, in a phone interview with the Daily.
By definition, policing is the regulation and control of a community – "the role of the police is to maintain the capitalist social order," Fernandez said. "A lot of [the] time the role of police is to maintain the social order so that those particular people who have power can do their business with the least amount of disruption […] possible."
Part of maintaining the current social order means that the police force does not treat everyone on a level playing field. "Capitalism develops very specific kinds of social arrangements, that for the most part require a very strong stratification of people. You need police to maintain that particular kind of order. [The actions of the police are] not equally distributed – it's not equal opportunity policing," Fernandez said. This leads to higher rates of police brutality and incarceration in less privileged populations.
Activities such as watching, recording, and noting police activities – promoted by activist networks such as Copwatch – can occasionally work to counteract the aggressive actions of the police by changing the power dynamic in favour of the people who may otherwise be harmed by the police.
"[Copwatch] has a certain kind of Foucauldian power where the police officers, if they think they are going to be watched, they are much less likely to abuse people," Fernandez said.
Imagining a world without police, however, is daunting – without police, who would respond to emergencies? Who would we call when we see a crime being committed? Despite this, Fernandez doesn't see a society without police to be that far off.
"Most of our communities already exist without policing. Most of our human interactions are already outside of the purview of police officers," he said. "Most of the social relationships between people do not require police intervention," he added.
While a complete abolition of the police system would require a change in social order, some alternatives to the current police system set out to empower people to keep their communities safe, while encouraging everyone to live lives that are free of violence and oppression. A society with little or no policing requires strong community organizations to mediate and react to conflict when it does occur.



MAP OF POLICE SHOOTINGS MONTREAL 2003-2018
Blue indicates injury. Red indicates death.
Restorative Justice
Restorative justice, as an example of an alternative to police, has a long history in Canada, particularly within Indigenous communities. It traditionally lessens the state's role in dealing with crime, and focuses on methods like mediation, dialogue, and reconciliation, instead of punishment.
Founded on the principle that traditional apparatuses of the criminal justice system typically do not take into account the needs of victims, restorative justice works to include victims in the process. It functions with the voluntary participation of victims, offenders, and community members. Victims typically address how the crime has affected their lives, and offenders are encouraged to take responsibility.
"The collective body of citizens has the ability, in a deliberative, consensus model, to determine with the offender, whether the offender goes to jail or not," Fernandez explained. "This becomes an alternative to law enforcement and policing because you have the power with the people, collectively," he added.
There are several essential tenets unique to restorative justice: recognition that crime is a violation of one person by another, rather than an act against the state, and that it is harmful both to  personal relationships and to communities. The process takes the holistic context of an offence into consideration, including moral, social, economic, political, and religious considerations.
Restorative justice has been recognized by the Supreme Court of Canada and is mentioned within the Criminal Code in paragraph 718.2(e). It is often used to try to lessen the large number of Indigenous peoples within the criminal justice and prison systems – Indigenous peoples make up approximately two per cent of Canada's adult population, but made up between 17 and 18.5 per cent of federal prison admissions in 2006.
Peacemaking circles, a form of restorative justice in some Indigenous communities, focus on non-hierarchical dialogue between community, victim, and offender. These circles focus on looking at larger, structural issues of crime and prevention within the community, as opposed to focusing on crime on an individual basis.
Dissatisfied with Canada's current punitive criminal justice and penal system and concerned that it unfairly targets Indigenous peoples, the Kahnawake Mohawk community, located on the South Shore of the St. Lawrence River, began to use Sken:nen A'onsonton, which means "to become peaceful again," the traditional restorative justice system reintroduced by the Mohawk in Kahnawake in 2000. These practices provide alternative measures to the federal criminal justice system, and focus largely on preventative measures and interventions.
Other restorative justice models include Victim Offender Mediation programs (VOMPs), which originated in Ontario, and focus on problem-solving between victim and offender with the help of a trained mediator. Unfortunately, despite its success, the program was terminated in 2004 due to a lack of funding.
Historically, restorative justice has been used for addressing minor crimes. However, some, such as Howard Zehr, a professor of restorative justice at the Eastern Mennonite University, argue that it can be effective in cases of more serious crimes, such as sexual assault or murder. The evidence for this varies, and often depends on multiple variables, such as mediator training or the voluntary participation of all parties involved.
Preventative Measures
One key shortcoming of the police force is that it reacts to crime more often than it actively prevents crime. Communities that feel underserved by the police have thus had to come up with alternative methods in order to keep safe without police help; however, many of these methods seem to exacerbate the dichotomy between criminal and victim.
Anti-crime design is one such method. Groups like Crime Prevention Through Environmental Design (CPTED) Ontario advocate for the creation of public spaces that actively prevent crime. For instance, CPTED suggests high visibility in public spaces – basically, more windows – to decrease secret spaces where crime may occur. With more observers, would-be criminals may be less likely to commit crimes. A crime prevention design technique called "natural access control" also suggests building fences to clearly delineate public and private spaces, or designing spaces so people know precisely where they are allowed and not allowed to go. Instead of constant police patrols or merely reactionary police work, this design-oriented approach physically prevents crime through space.
Community-based sexual assault centres have also emerged in the past decades as a valuable alternative to police. Locally, centres like SACOMSS or the Montreal Sexual Assault Centre give non-police aid to survivors of sexual assault. This includes helping survivors immediately after incidents as well as providing crucial long term support and advocacy for them. Community centres are also more likely to keep the survivor's identity a secret, as they work in total anonymity. These solutions give survivors more support than does traditional police work, which does not typically provide support for the survivor past legal action.
An organization like Walksafe McGill is a small-scale version of what many neighbourhoods and communities have implemented. The Réseau québécois de Villes et Villages en santé (the healthy communities network) is one program that asks community members to define what they want their community to be and allows them to come up with ways to prevent crime from occurring in the area. Other programs around Quebec include neighbourhood watch programs that encourage communities to police themselves and prevent crime through vigilance and community education.
[special_issue slug="police2018″ element="footer"]