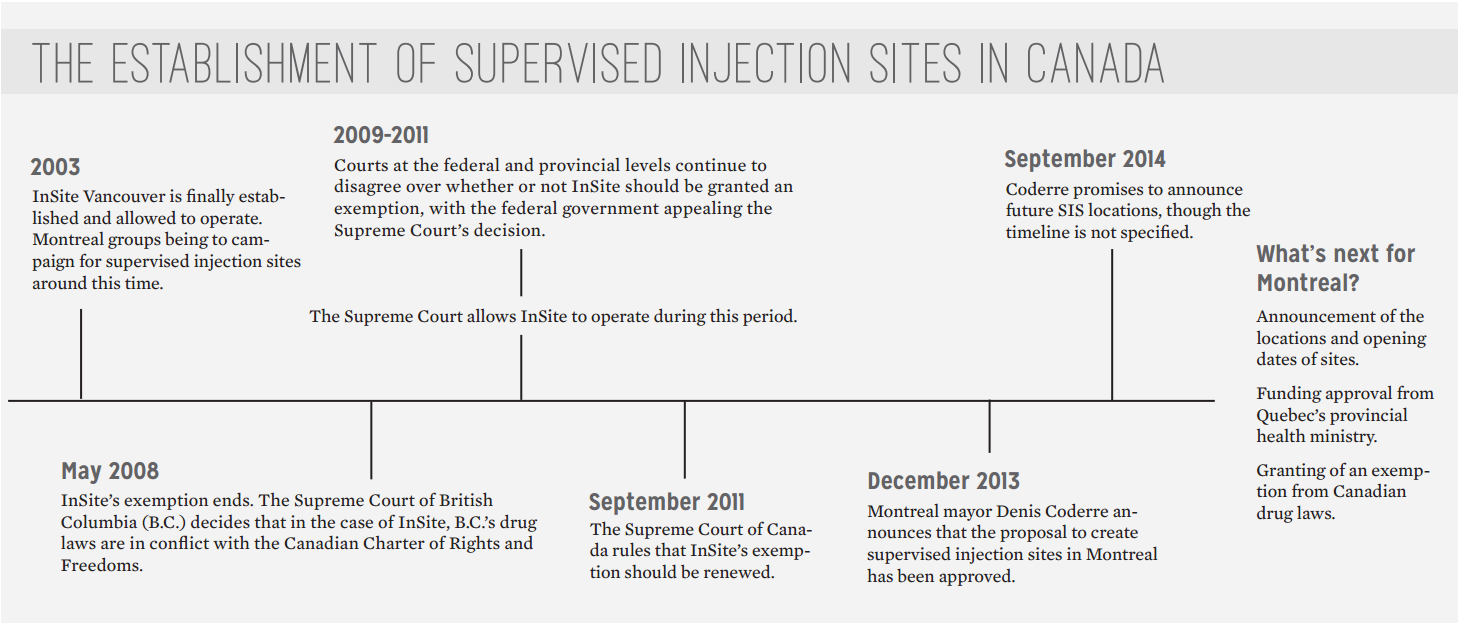 Last week, Montreal's mayor Denis Coderre announced his intention to release the eventual locations of Montreal's first supervised injection sites (SISs), though he gave no indication as to when that announcement will come, or when installation will begin.
A similar statement was released in December 2013, which declared that Montreal was soon to welcome four SISs, with locations across the city and one mobile clinic to serve the greater Montreal area.
Supervised injection sites are locations where injection drug users can obtain clean needles, dispose of used ones, access social workers, and receive on-site emergency medical attention if needed. They are part of an initiative known as 'harm reduction,' and work to provide safe spaces and non-coercive, non-judgemental care to those trying to fight addiction.
It has been over ten years since Quebec-based organizations such as the Association pour la Défense des Droits et l'Inclusion des personnes qui Consomment des drogues du Québec (ADDICQ), CACTUS Montréal, and Dopamine – located in the Hochelaga-Maisonneuve neighbourhood – first started to campaign for SISs to be opened in Montreal after Vancouver opened its first SIS, InSite, in 2003.
The only role that these community-based organizations are playing right now is purely to raise awareness on a local level. "One thing we still can do is [to] have some groundwork [done] in our community in order to make sure that people understand why we need to have this sort of service, and what positive impacts it can have in the community," Sandhia Vadlamudy, the executive director of CACTUS, told The Daily.
Why so long?
Funding for the sites has yet to be approved, according to Marie-France Coutu, a spokesperson from the Agence de la santé et des services sociaux de Montréal, and until this is done the project cannot move forward. "We gave a document […] in January, and we are waiting for [Quebec's provincial health ministry's …] approval because we need the approbation of the federal government," she told The Daily in an email.
The initial request for funding was filed by the Montreal Director of Public Health to Quebec's Ministry of Health and Social Services, asking for $3.2 million initially and an additional $2.7 million annually.
Lucie Charlebois, Quebec Minister for Rehabilitation (Youth Protection and Public Health) declined to comment on her stance regarding SISs and did not respond to emails asking if funding had been approved or when the administration would announce a decision.
Once the funding is approved, the sites will require an exemption from Canada's drug laws provided by the federal government. However, the Conservative government has shown hostility in the past toward SIS projects, when it refused to renew InSite's exemption in 2008. Only after InSite appealed to the Canadian Supreme Court did the justices rule against the Conservatives, declaring in 2011 that InSite's benefit to society trumped Canada's drug laws.
Assuming the exemption request passes, it will need to be accompanied by a letter outlining security issues written by the Montreal police chief. Service de police de la Ville de Montréal (SPVM) spokesperson Marie-Elaine Ladouceur confirmed in an email to The Daily that the SPVM has not publicly announced whether it intends to write one.
Only if all of these conditions are met can the Agence de la santé et des services sociaux de Montréal begin working with community organizations to set up the clinics.
Following in the path of InSite
SISs have been controversial since their inception, as they involve the open provision of supplies to individuals who wish to use illegal substances.
InSite began as a pilot project, initiated to address the fact that Vancouver was experiencing the highest HIV transmission rates of any developed country.
While the 2008 Supreme Court decision allowed for the continued existence of InSite, its recommendation that 'parameters be established' has resulted in a motion called Bill C-2, or the "Respect for Communities Act." If passed, the bill will place several conditions on any application for exemption, requiring them to include interviews of local police, doctors, and scientists. The bill is in its second reading.
M-J Milloy, a research scientist at the British Columbia Centre for Excellence in HIV and AIDS, an assistant professor in the department of medicine at the University of British Columbia, and a former McGill student, was part of a team that worked on evaluating the effect of InSite on overdose patterns among Vancouver's intravenous drug users.
"What we've found [in Vancouver] is that a site is one good way to begin to meet these needs in ways [that] are not detrimental to other community members," Milloy told The Daily in an interview. "By that I mean we did not see the site add to levels of drug use, add to levels of drug-related crime, and it does not damage communities' local conditions to any extent."
"InSite is right on the edge of Chinatown, and many Chinatown merchants were strongly opposed to the facility before it opened because they feared it would attract more people to the area, and that it would result in more drug use, violence, and litter," added Milloy. "[Yet] a number of years after the facility opened, when Prime Minister Stephen Harper began making serious moves to close the facility, the heads of the merchant association wrote him a letter saying, 'Please keep the facility open because of all the wonderful things it's done for our neighbourhood."
Anna Marie D'Angelo, the Senior Media Relations Officer for Vancouver Coastal Health, the organization that runs InSite, told The Daily she thinks Bill C-2 will "make it more challenging, if not impossible, for new SISs to start up."
"For many people it's a black and white issue. They don't accept harm reduction, [which is] a research-supported addiction treatment."
D'Angelo likened the process to smoking cigarettes. "If you look at people who smoke, there are a lot of people who use the patch, which is a form of harm reduction. It seems like when you go over the addiction line into the illicit drugs, everything has to change as far as the addiction treatment, when actually the same kind of principles work."
—With files from Dominic Gunewardena