In a previous version of this article, investments of undisclosed amounts under $500,000 were included in the bar graphs, represented by a value of $500,000. The Daily was alerted that this representation could be misleading, and has updated the graphs to present a more accurate picture of McGill's investments. The Daily regrets this error.
As Israel continues its bombardment of Palestine, Palestinian activists and allies in Canada have been drawing attention to the role that institutions such as governments and universities can play in either advancing or mitigating the violence in Gaza. Recent protests taking place at McGill and in Montreal have called out the alleged complicity of the Canadian and Quebec governments, as well as the McGill administration, in supporting the ongoing genocide in Gaza. Two of the main demands of these protestors are for the Canadian government to call for an immediate ceasefire and for governments and corporations to stop arming Israel.

So far, Prime Minister Trudeau has not officially called for a ceasefire, as many protestors and Members of Parliament are demanding, but instead a "significant humanitarian pause" to release the hostages in Gaza and relieve the current humanitarian crisis. Canada has provided humanitarian aid to both sides — $10 million to Israel and $50 million to Gaza.

In 2022, Canada exported $21,329,783.93 of military goods and technology to Israel. This number was a cause for concern for many human rights and Palestinian advocacy groups, including the Centre for Justice and Peace in the Middle East (CJPME). CJPME's Vice-President, Michael Bueckert, wrote in a press release that "Canada must take action now to ensure that Canadian exports are not involved, directly or indirectly, in war crimes or crimes against humanity." In recent weeks, pro-Palestinian activists have organized demonstrations aimed at shutting down Canadian manufacturing plants of companies selling weapons to Israel.

McGill as well has been accused of "funding apartheid" during recent pro-Palestine demonstrations on campus. Protesters point out the university's investments in companies operating in Israeli settlements in Palestine which reinforces Israel's apartheid regime. Although the university may not be directly manufacturing weapons for Israel, they invest in several major arms manufacturers, many of which are known to sell weapons to Israel. The Daily has looked into McGill's investments in arms manufacturers and attempted to determine its level of involvement with Israel.
McGill's Investment in Military Companies
As of June 30, 2023, McGill's endowment is valued at $1,100,913,015 ($166,314,508 in Canadian holdings; $485,082,645 in US holdings; and $449,515,862 in non-North American holdings). According to McGill's publicly-available list of investments, the university invests in nine of the top 100 largest arms-producing and military services companies in the world (Graph 1). Individual investments over $500,000 add up to $6,923,926 (0.6 per cent of the endowment). Investments under $500,000 do not have a specific amount disclosed.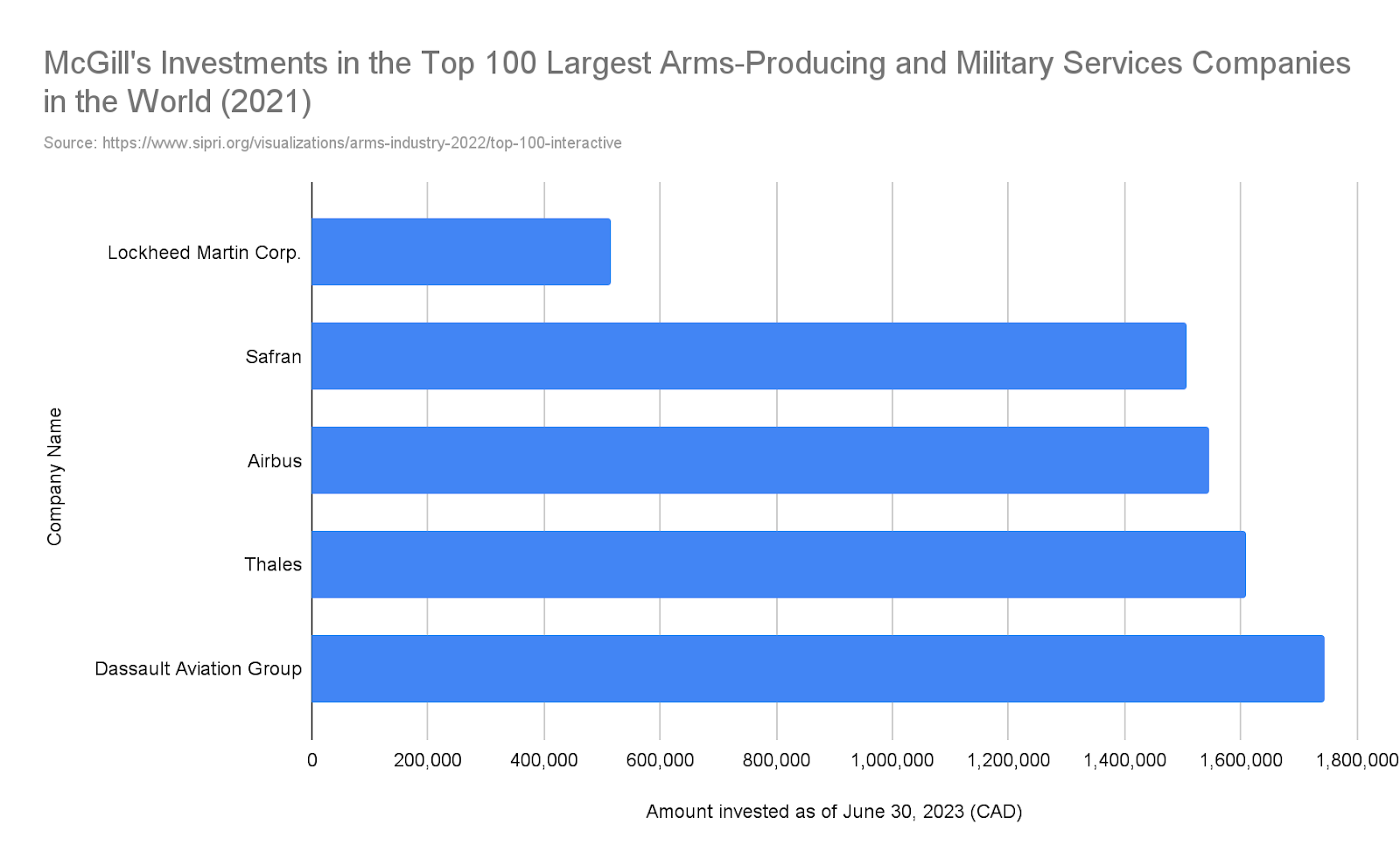 Several of the companies in which McGill invests have been the subject of direct actions for Palestine in recent weeks. On November 10, activists in Ottawa blocked Lockheed Martin's manufacturing plant. The American company is the world's biggest arms producer and boasts that it provides "superior support" for the IDF on its website. It supplies the IDF with both air and ground weapons, notably the F-35 fighter jets, the M270 Multiple Launch Rocket System, and the Hellfire 9X Missile, which was reportedly used in the bombing of Al-Shifa Hospital in Gaza. McGill currently invests $515,381 in Lockheed Martin.

In the UK, protests led by trade unions have also targeted BAE Systems, Britain's largest weapons manufacturer, which provides key parts to build F-35 fighter jets. This company has also applied for export permits to send military goods to Israel as recently as 2020. McGill currently invests under $500,000 in BAE Systems.

Aerospace corporation Airbus has also applied for export permits to Israel as recently as 2019. Airbus also partnered with the company Israeli Aerospace Industries (IAI) to develop the Heron TP drones, which Israel is currently using in its attack on Gaza. McGill invests $1,547,013 in Airbus. Mitsubishi, in which McGill invests under $500,000, has also worked with IAI to research unmanned surveillance airplanes used in attacks on Gaza.

Thales, another UK-based company, has worked with the Israeli company Elbit Systems to develop the "Watchkeeper" drone, supported by both the British and Israeli governments. It was based on Elbit Systems's Hermes drones, which have been extensively used against Palestinians. In May, activists from Palestine Action blockaded the Elbit Systems factory in Leicester, UK, to prevent the company from supplying arms to Israel. McGill doesn't invest directly in Elbit Systems but invests $1,608,930 in Thales.

French company Safran supplied biometric technology to the Israeli Police Force operating in the West Bank in 2013. The Daily was unable to find precise information to determine whether the company has continued to sell weapons to Israel since then. McGill currently invests $1,507,748 in Safran.

Another French company, Dassault Aviation Group, designed a ballistic missile for Israel, the MD 620 Jericho, in the early 1960s. Yet, in 1967, France imposed a weapons embargo on Israel in condemnation of the Six-Day War, which led Dassault to abandon the project. However, the company celebrates the "success" of its technology during the Six-Day War, which "created an explosion in demand for Dassault fighters." McGill invests $1,744,864 in Dassault, the highest of any company on the list.

The shipbuilding company Huntington Ingalls builds the Sa'ar 5 class warships for the Israeli Navy. It is also a spin-off of Northrop Grumman, a company that is heavily involved in supplying Israel with weapons such as missiles, a radar system for attack helicopters, and components used by Lockheed Martin and Elbit Systems. McGill does not currently invest in Northrop Grumman but invests under $500,000 in Huntington Ingalls.

US-based company Textron provided aircrafts and attack helicopters to the Israeli Air Force, some of which Human Rights Watch has documented as being involved in civilian attacks. McGill invests under $500,000 in Textron. Pro-Palestine activists have organized several protests in front of Textron's headquarters in Providence, Rhode Island.

The Daily couldn't find any precise evidence of Moog and Science Applications International's products being used by the Israeli military. McGill invests under $500,000 in each company.
Investments Targeted by the BDS Campaign
Investments in arms companies supplying military goods to Israel isn't the only way that McGill financially supports the occupation of Palestine. The university's investments also include companies that operate in occupied Palestinian land and companies manufacturing weapons, such as Elbit Systems.

In light of the current escalation of Israeli violence in Gaza, the Boycott, Divestment, and Sanctions (BDS) campaign has compiled a list of targeted boycotts, focusing on a smaller number of companies with clear links to Israel's human rights abuses for maximum impact.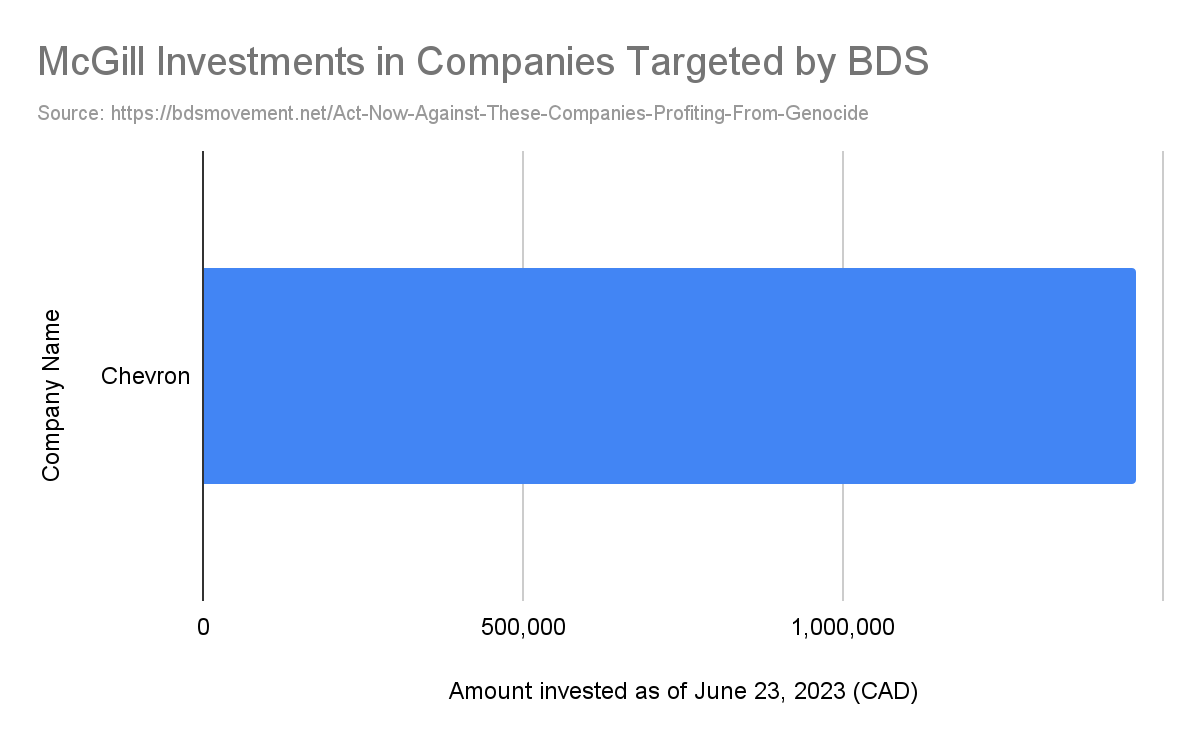 McGill currently invests in four companies on this list: Volvo (<$500,000), AXA (<$500,000), Hewlett Packard Inc. (<$500,000), and Chevron ($1,457,494) (Graph 2). Volvo sells equipment to the Israeli Ministry of Defence that has been used in the demolition of Palestinian villages in the West Bank and East Jerusalem. Its subsidiary Merkavin provides buses to the Israeli Prison Service that are used to transport Palestinian prisoners. French insurance company AXA is on the list due to its investment in Israeli banks. Hewlett Packard Inc. provides technology services to Israel's population registry as well as the Israeli police, the Israel Prison Service, and the Israeli Biometric database. Finally, Chevron operates several natural gas extraction projects off the coast of Israel and Gaza. Noble Energy, a company owned by Chevron, participates in Israel's naval blockade of Gaza, designed to cut off Palestinians' access to natural resources.
Movement for Divestment from Israeli Apartheid at McGill
Concern over McGill's involvement in the arms trade or Israeli apartheid is nothing new. Since the 1980s, student groups have been advocating to end military research at McGill, most recently through the Students for Peace and Disarmament campaign. The website mcgillinvests.in, last updated in November 2021, provides data about McGill's investments in the military, oil and gas, mining and extraction, alternative energy, and Palestine occupation sectors. The Divest For Human Rights campaign called on the university to divest from all companies complicit in acts such as "settler-colonial land theft, environmental destruction, war crimes, crimes against humanity and genocide around the world." This campaign led SSMU to adopt the Divest For Human Rights Policy in 2021.

The campaign for the SSMU Policy Against Genocide in Palestine also released a spreadsheet detailing McGill's investments in companies profiting from Israeli war crimes in Palestine. SSMU members had the chance to vote on this policy, which demands that the university divest from these companies, from November 14 to 20.

Anyone interested in determining a company or government's involvement in the arms trade or the Israeli occupation of Palestine can consult databases such as whoprofits.org, investigate.afsc.org, and the Stockholm International Peace Research Institute.