A century ago, Chinese faces were a rare sight on the McGill campus, let alone in McGill stadiums and gymnasiums. Then, in the early 1930s, a Chinese-Canadian McGill athlete named Willie Woo stunned Canadian sports fans with his stellar performance on the basketball courts, football fields, hockey rinks, and softball turfs. Though once celebrated as the "the first great Chinese all-round athlete in Canada," Woo's name remains mostly unknown to both Chinese and Canadians today. Piecing together the fragmented information about this former sports star, we find a truly extraordinary life story that illustrates how sports can serve as a unifying force, bridging the divide between different cultures.
Woo's Early Years in Montreal
The second son in a well-off family, Willie Woo (also known as William Woo, Woo Ching-Kooi, or Hu Zhengqu) was born on February 26, 1912 in Montreal. His grandfather left Enping, Canton in the second half of the nineteenth century when the state was still under Manchu rule, and made his first fortune in the Australian gold rush.
Following in his grandfather's footsteps, Woo's father, Woo Chong Kee (Wu Changqi), later made his way to Melbourne to run a tea dealing business. He returned to China after a decade but soon decided to leave due to the numerous uprisings and the looming threat of Western imperialist powers. After a brief venture in California, Woo's father decided to settle in Montreal at the turn of the century. Despite barely speaking English or French, Woo Chong Kee worked hard to hawk his tea and other goods to locals, and his effort paid off. Within a decade, he had set up his own store on Sainte-Catherine Street.
Willie Woo grew up in the Golden Square Mile, enjoying a relatively happy childhood compared to his father's generation. At the age of 11, Woo became a member of the YMCA, the key promoter of basketball worldwide. By his teenage years, his exceptional sports talent became clear. In the 1929-30 season, he was selected by the Montreal Central YMCA (Central Y) to play for the national junior basketball championship and led the team to the Eastern quarterfinals. Despite the team's loss, The Montreal Gazette recognized him as the "most effective player [in the team]" and highlighted him as a "Chinese star." Woo remained one of the most prolific scorers for the Central Y in the next two seasons and led the team to the Quebec finals in the 31-32 season of the premier men's championship.
Although basketball was the sport for which Woo was best known, he also demonstrated remarkable athletic ability in American football. While attending Montreal High School, he stood out as a talented player and was once referred to as a "stellar quarte[rb]ack" by local media. When Woo turned 18 in 1930, he served as the captain of the Montreal Westwards, the city's football team at the time.
Becoming a McGillian
In Fall 1932, Woo entered McGill University and soon became an active participant in university sports. His previous experiences made him a player that "shows considerable promise," as The McGill Daily put it, earning him the position of quarterback on the McGill freshman football team.
In addition, Woo continued to stun sports fans both on and off-campus with his exceptional performance in his top sport, basketball. As an Arts student at McGill, he played for the Arts I team in the Interfaculty basketball league in 1932, impressing a commentator of the Daily with his "usual brilliant play" as a "stellar wingman." Outside McGill, Woo shifted his loyalty from Central Y to play for the Montreal Notre-Dame-de-Grace Community Team. Despite the team's 96-46 loss in the 1932-1933 Eastern finals, Woo still "drew merited applause from the crowd" as a skilled forward.
Apart from football and basketball, Woo's talents extended to ice hockey and softball/baseball. As a "hefty defenseman" for the McGill ice hockey team, he helped McGill defeat the Loyola team in the Junior Amateur Hockey Association's 1932 championship. He also played both infield and outfield positions in baseball and softball.
Across the early 1930s, Woo's incredible athleticism across multiple sports resulted in frequent appearances in the sports sections of Canadian newspapers like The Montreal Gazette, The Montreal Daily Star, and The Windsor Stars. Woo was so athletically versatile that the Canadian media gave him the title of an "all-round athlete." He was the first Chinese athlete in Canada to achieve such a high level of success and renown.
In contrast to the copious amount of information about his life on the sports fields, little is known of Woo's academic life at McGill, save that he once studied Chinese with Professor Kiang Kang-hu (Jiang Kanghu, 1883-1954), a renowned yet controversial Sinologist and chair of the newly founded department of Chinese studies. Woo's brief acquaintance with Kiang would be a turning point in his life.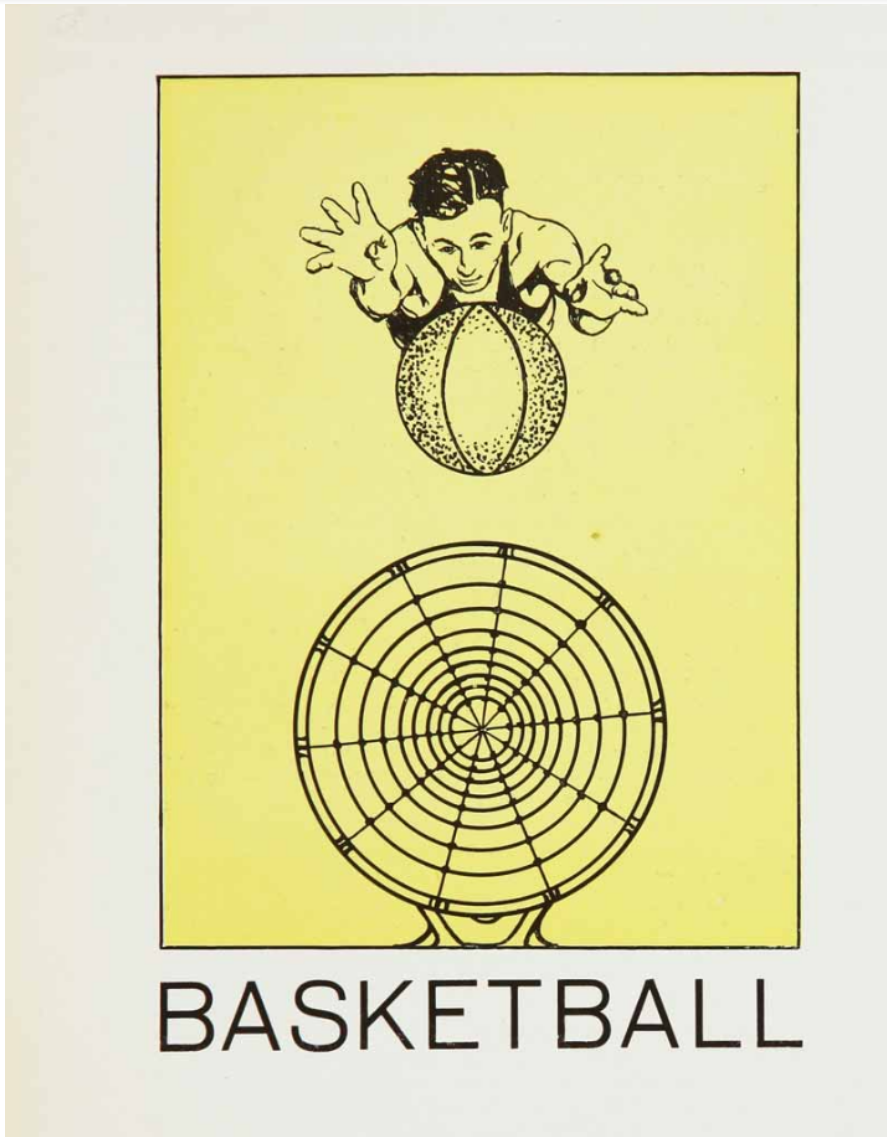 "Back" to China
Just as Woo's athletic career was on the rise, it was brought to a sudden halt in 1933. According to a news report in The Brandon Daily Sun, Woo's father, blind, elderly, and suffering from the grief of losing his wife, decided to spend his last days back in his hometown, Canton. This decision resulted from advice from his doctor to move to a warmer climate and encouragement from Professor Kiang to "find his roots at the ancestral home." Accompanying him was none other than his son, Wille Woo, who had just finished his freshman year at McGill.
Not surprisingly, this plan was met with strong opposition from the young Willie Woo, who by then had spent over two decades in Montreal. But eventually, Woo conformed to his father's wish on the condition that he would stay in China for no more than six months.
News of Woo's impending departure soon covered the pages of Canadian newspapers. Following his final game for Westwards in November 1933, Woo embarked on a journey across the Pacific Ocean to China, a land in which he had never before set foot.
Woo first sailed to Hong Kong, and then traveled to Shanghai. In China, he was welcomed with open arms. Woo's success in the Canadian sports scene was viewed as an honour to Chinese people, who were often typecast as physically weak and not valuing physical education. His "homecoming" thus took on a nationalistic hue (figure 3). As a commentator of the Chinese newspaper The China Times (Shishi xin bao) wrote:
"Given that the situation in China is becoming worse and worse, the crux of the problem lies in the debility and weakness of our citizens […] With his excellent athletic skills, [Mr. Woo] is to generously serve Chinese sports upon his return to the country and train budding young athletes, in hope of washing away the humiliation of 'The Sick Man of Asia'. His ambition is indeed admirable!"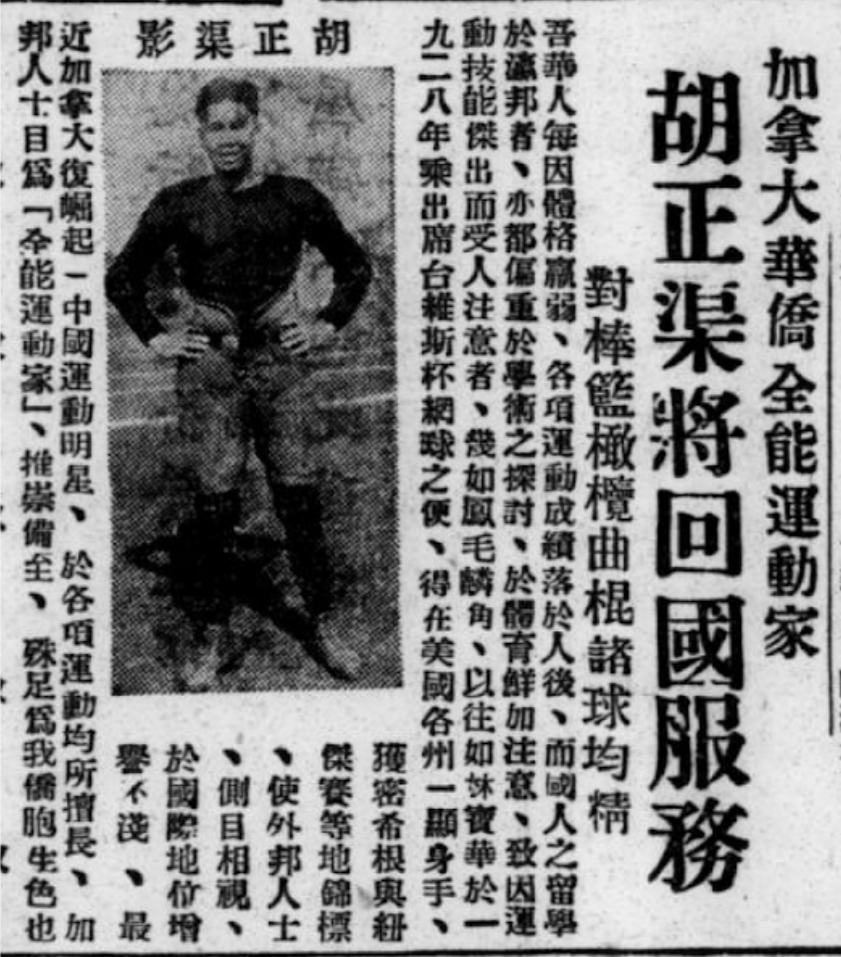 Bringing with him some prior coaching experience from Canada, Woo quickly established himself as a highly sought-after coach among universities and institutions in China. In February 1934, he was recruited by the Liangjiang Women's Sport Institute in Shanghai as a general physical education teacher. Upon his arrival, the school principal, Lu Lihua, held a welcome party for Woo, anticipating that he would bring about changes to the school's sports teams.
Woo proved to be not only a talented athlete, but an excellent coach as well. His tutelage enabled the sports teams at Liangjiang school to progress rapidly, achieving remarkable results in a variety of sports. With only two months of training, the Liangjiang softball team was able to defeat a high school team from the United States in a friendly competition. Moreover with Woo serving as coach, the Liangjiang basketball team made history. During the team's three-and-a-half-month tour of five Southeast Asian countries starting in February 1935, it achieved an unprecedented winning streak, dominating its 28 games against other local women's basketball teams by wide margins. The Liangjiang team also won six victories in twelve games played against local male teams.
This was no small feat for a young all-female basketball team, whose country was still mired in war and political turbulence. The young women's victories left local audiences awestruck, fueling Chinese people with a sense of national pride while sensationalizing the entire sports scene in both China and around Southeast Asia. When the team returned to China in May, they were greeted as national heroes, hailed for their remarkable achievement and bringing glory to their country. Needless to say, Woo's leadership and dedication as the head coach were crucial contributors to the team's success.
As a result of his impressive coaching accomplishments, Woo stayed in China for a longer period than he had anticipated. In 1936, he moved to Hong Kong and began coaching for the South China Athletic Association (SCAA, also known as Nanhua hui). The SCAA basketball team soon became another display of Woo's aptitude in coaching. In 1939, Woo led the team to a hard-fought triumph over the Sing Tao (Xingdao) basketball team, earning them the Hong Kong basketball championship that year.
Over the following years, Woo worked as a physical education instructor, teaching both English and sports in numerous institutions across Hong Kong and mainland China, notably Hong Kong University, Canton University, and Zhejiang University. Despite his distance from North America, Woo maintained a connection with his hometown. He made regular trips to Canada during vacation periods, and in 1939 he even made a brief comeback in Montreal, playing for the city's basketball team alongside his old friends (figure 1).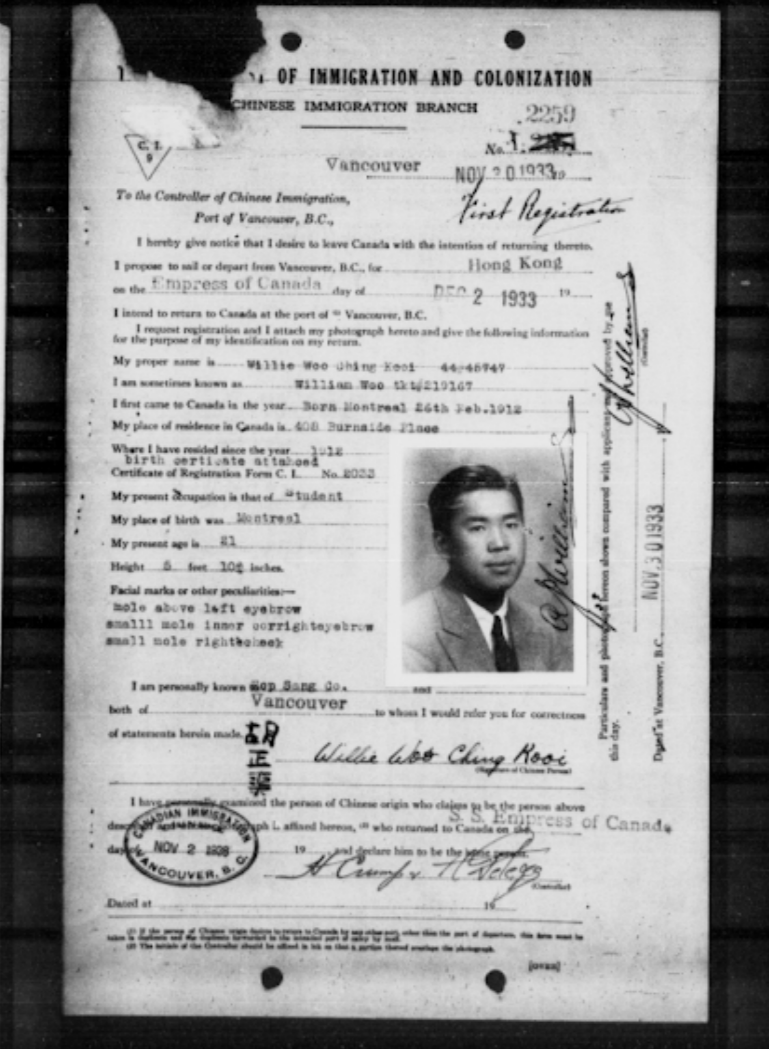 "Back" to Montreal
The late 1930s and early 1940s saw the steady growth of Woo's reputation as an excellent coach within China's sports circle. However, the Japanese invasion of mainland China and Hong Kong brought the nation into chaos and derailed Woo's career. In August 1942, eight months after the Japanese occupation of Hong Kong, Woo fled the city to find refuge in the areas not under the heel of Japanese domination, which were collectively known as "Free China." He lived amongst the masses under the shadow of war and was amazed by their determination to resist the enemy. While Woo's life in "Free China" allowed him to survive Japanese aggression during these years, it was by no means easy.
On January 5, 1943, Woo's former Central Y teammate, Scotty Brotman, became concerned by a letter from Woo that described the physical suffering and poverty he was facing. Not only was his health jeopardized by sunstroke, malaria, typhus, and malnutrition, but after losing nearly all his belongings, Woo could not afford to buy the clothes he needed.
In response to his plight, a committee was set up on Woo's behalf.  Affiliated with the Central Y and chaired by Brotman, the committee was tasked with devising solutions to Woo's pressing needs. The Central Y established  the "Willie Woo fund," created from the proceeds of several benefit basketball games held by the committee and a performance staged by Montreal High School. 
It was reported that Woo received around $350 in September of 1943, equivalent to $6000 today. Having endured various physical and mental afflictions, Woo eventually returned to his birthplace of Montreal in 1944. Perhaps a winding, if not adventurous, journey, Woo traveled via Kunming in Yunnan province, the Himalayan hump, Kolkata, Brisbane, and Los Angeles, all while dealing with his declining health.
Upon his arrival in Montreal, Woo picked up his previous profession as a basketball coach. For two years, he brought a remarkable improvement to the Sir George William College basketball team, the Georgians. In the 1944-45 season of the senior  men's basketball championship, the Georgians went on to the Eastern finals (figure 2). Although the team was ultimately eliminated, Woo was delighted to see the achievements this local Montreal basketball had made. "We've come a long way in the playdowns," Woo said after the Georgians' victory in the Eastern semifinals in 1945. "[B]ut we won't be satisfied until we return to Montreal with the title and let the rest of Canada know that Montreal also can produce prominent basketball clubs." 
Residing at the intersection of different cultures, Woo always saw himself as a bridge builder, not only between Montreal sports and the rest of Canada but also between Chinese and Canadians. Motivated by this perspective, Woo founded and presided over the Chinese Athlete Club, one of the thirteen branches of The International YMCA, in 1945 for the sake of "foster[ing] health-giving recreation for Chinese youngsters in this area and to stimulate goodwill and understanding between two races." It was Woo's conviction that sports, and basketball in particular, could bridge the gaps between different races and cultures.
Post-war Life in Hong Kong
As the catastrophic war ended in China in summer 1945, Woo, inspired by the will of the Chinese people during his hazardous stay, saw a way to devote himself to rebuilding the country in the post-war period. In April 1946, Woo traveled back to China, and spent much of the rest of his professional life in Hong Kong, which was relatively impervious to the ensuing political upheavals in the mainland.
In Hong Kong, Woo resumed his affiliation with SCAA, where he served as the coach for both the basketball and softball teams. He also assumed several administrative roles within Hong Kong's sports circles, serving as the chair of the Hong Kong badminton, softball, and most importantly, basketball associations.
As the main contributor to the post-war revival of softball in Hong Kong, Woo acted as both a coach and an ambassador between Hong Kong and the West by attending international softball conferences and hosting visiting softball teams from other countries.
As for basketball, with his rich experience and impressive track record, Woo was  once acclaimed as "the only best basketball coach in South China so far" by the Hong Kong newspaper Overseas Chinese Daily News (Wah Kiu Yat Po) in 1948. Woo proved himself worthy of this title, when his basketball team won three championships in the Hong Kong Basketball League in the 1950s (54-55,  57-58, and 59-60).  
Serving as the Chinese basketball team delegate for five Olympics and the representative for the SCAA and Hong Kong Basketball Association, Woo attended FIBA conferences in Rome in 1960 and in Tokyo in 1964. Through his frequent travels, Woo recognized basketball's potential for putting Hong Kong on the map and enhancing its global visibility. "People in the world knew little about Hong Kong in terms of basketball," said Woo after his return from Rome in 1960. "I hope one day Hong Kong can reach international competitions."
After retiring in the mid-1960s, Woo moved back to Canada, where he enjoyed a comfortable life and maintained his passion for sports by following NCAA basketball games and hockey competitions. He returned occasionally to Hong Kong to catch up with old friends and students, many of whom, including Shi Zhenda and Pan Kelian , had become established athletes.
Chinese? Canadian? Or Montrealer?
Like any second-generation immigrant or cultural wanderer in general, questions about Willie Woo's identity were always present. He has been referred to in various ways such as a "Chinese player [of the team]," "Canadian-born Chinese," "ex-Montrealer," and "former local athlete" by Canadian media, and "overseas Chinese" (huaqiao) or "a member of the national community" (guomin yifenzi) by Chinese media. To be sure, it is always tricky to say whether China was a place for Woo to "go" or "return."
Having spent his formative years in Montreal, Woo identified himself more as a Canadian in his youth: "I felt I was totally Canadian, except for the colo[ur] of my skin." However, in an interview in the 1980s (figure 8), when explaining his rationale for spending most of his time in China, Woo reflected that "[as] much as I loved my boyhood in Montreal, I feel better being one of the majority."
To be sure, Woo's Canadian culture never hindered his commitment to fostering cross-cultural connections through sports. He utilized his ability and expertise in sports to build bridges between different cultures. He aided Chinese athletes in adapting to the local culture in Canada while introducing novel viewpoints and basketball tactics from abroad to China, using sports as a vehicle to increase China's global exposure. Unlike George Orwell, who believed that sport "is bound up with hatred, jealousy, [and] boastfulness," Woo dedicated the better half of his life to demonstrating its potential to promote mutual understanding.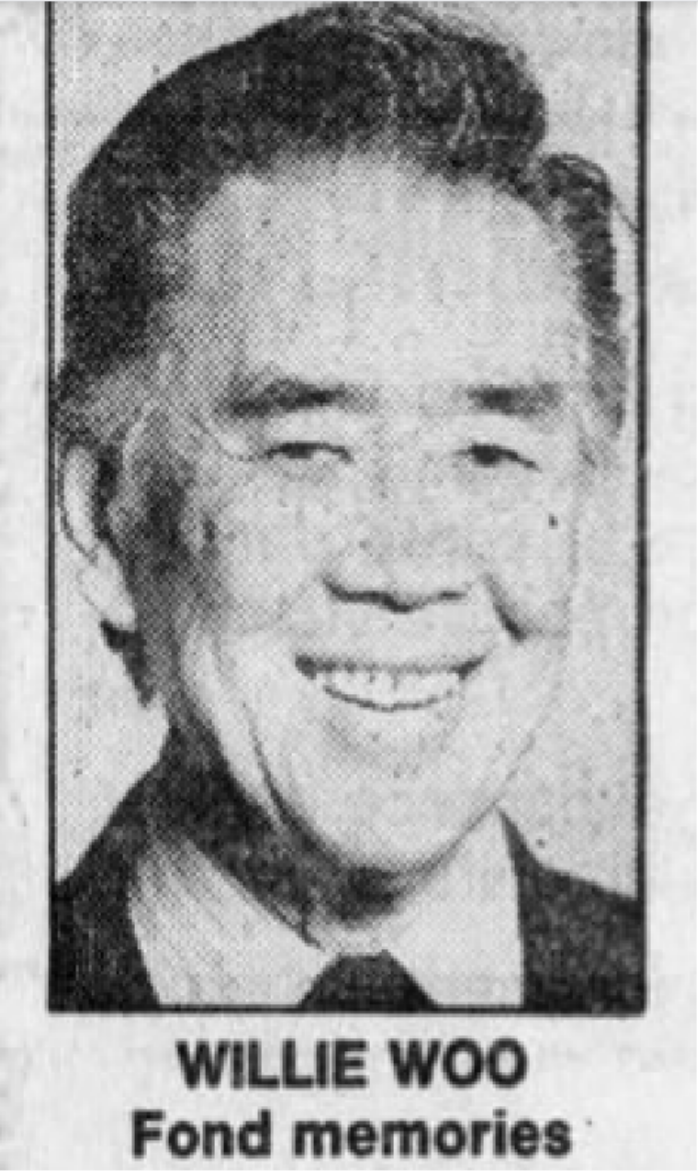 Woo passed away in Vancouver in March 1990 after battling cancer. In an obituary in The Gazette, Woo was hailed as "the first great Canadian-born Chinese athlete." Meanwhile, in Hong Kong, his contributions to the development of basketball were spotlighted in Overseas Chinese Daily News. As it is widely known that basketball was invented by a McGillian, perhaps it is also worth remembering that another McGillian played an important role in the development of the sport in East Asia.