Activist and entrepreneur Kayley Reed dove head-first into mental health advocacy in 2014. At age 20, she began to pursue her long-term goal of helping to break the stigmas around mental health, and of fostering more honest and open discussions on self-care. In fashion, she found a relatable and tangible way to make her aspiration reality. Combining her appreciation for aesthetics and style with messages of self-acceptance and self-love, Reed invented the startup clothing brand Wear Your Own Label. She has since left her brand to focus her energy on other self-care projects, and to better tend to her own mental health.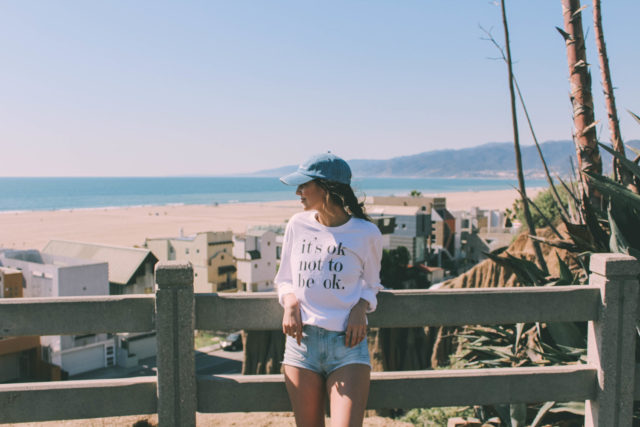 I reached out to Reed to speak to her about the challenges that come with running a startup, why she later decided to leave her brand, and to gain insight into her recent podcast called "Self-Care Sundays." The latter is exclusively a space for women to share their stories and to talk openly about mental health and entrepreneurship.
The McGill Daily (MD): What drove you to start Wear Your Own Label at such a young age, and what was the inspiration behind it?
Kayley Reed (KR): When I was 20, I was in my last year at the University of New Brunswick, and I was struggling with my own mental health. Actually, I had been in a bad place for a while. It was something I didn't talk about with anybody in my life. I had always been a perfectionist, and I thought that struggling with mental illness was something that I couldn't share, because I didn't want others to look at me differently. So, I struggled in silence for two or three years. Since then, I have seen a massive shift in things, from initiatives like BELL's "Let's Talk." However, at the time, my mental health still felt difficult to talk about. I didn't even tell my parents or my closest friends. In my last year of university, I started volunteering at a mental health organization, and that was also when I started receiving more treatment and help for my eating disorder. Those two things combined was how I came to realize that this is a much more common issue than I had previously thought. At that point, I started to ask myself why more people weren't talking about it. Why is it still so hard to talk about something that affects so many of us? So, my co-founder and I started Wear Your Own Label as a side project in school for a social enterprise class. We just wanted to create a clothing campaign with positive messages and give money back to the mental health organization we were working with, and from that idea we were accepted into a business accelerator program. This side project turned into a business organically.
I was mentally drained. I think that a lot of entrepreneurs don't talk openly about the struggles of entrepreneurship, or about how taxing it is on your physical and mental health.
MD: What was the process of leaving Wear Your Own Label and starting something new?
KR: I did Wear Your Own Label full-time for 3 years and grew an awesome team. Things I could only dream of, and that I never expected to happen, were all of a sudden a reality. We were selling internationally and we got to debut at New York Fashion Week. But what happened after 3 years of full-time startup grinding was that I became physically and financially exhausted. Perhaps even more importantly, I was mentally drained. I think that a lot of entrepreneurs don't talk openly about the struggles of entrepreneurship, or about how taxing it is on your physical and mental health. You work 14 hour days, followed by restless, anxious nights. Ironically, I had built this startup to raise awareness about mental health and self-care without realizing or acknowledging my own struggles. The brand was motivating me while I was recovering from my eating disorder; however, with time, my mental health started to decline again. That was a hard realization, because I was really attached to the startup. Being a mental health advocate defined me in a lot of ways. Equally, mental health advocacy in general is hard, because it's very personal, so sharing your story and hearing those of other people over and over in front of crowds and on social media can take a toll on you. Ultimately, burning out in my startup is what led me to leave Wear Your Own Label after three years and start a new chapter.
MD: What was the motivation for your podcast "Self-Care Sundays"?
KR: After leaving my startup, I needed to focus on my own self-care. A lot of the time, I find conversations with my female friends or with women mentors in my life to be immensely therapeutic. The podcast emerged as an idea from the discussions we were having. Significantly, I wanted to keep it an all-female circle. There are a million and one podcasts out there that are hosted by men, but I felt like there weren't many platforms for women, so I wanted to create something to fill that gap. I saw "Self-Care Sundays" as my passion project, and I secured a couple of sponsors for it. It's pretty simple: an episode every Sunday. I usually interview a woman I find inspiring and go behind the scenes of entrepreneurship to see it intersect with mental health. Otherwise, I do a solo episode where I reflect on self-care and mental health in some way. I have found the podcast to be a form of self-care for me, and I will keep doing it as long as it continues to give me that. If there ever comes a time where I feel I am forcing myself to do it, I'll stop.
MD: As an influencer who works with other influencers, what are some barriers and stigmas within social media you feel are still difficult to break?
KR: I think the biggest question and source of hardship on social media is the idea of "authenticity." Everyone strives for it, as we all know that "being authentic" is key to connecting with followers. Of course, that in itself poses a problem, as we can't be truly authentic if we are actively seeking authenticity. Even when authentic, we are still choosing which authentic moments to post. For example, I could open up about my eating disorder, but I would still be choosing what parts of my story to share. I also choose the when and how, so it remains a curated story. There is a constant struggle and balance between wanting to use Instagram as a tool for good and recognizing that it also perpetuates a lot of these negative stereotypes and stigmas. Sometimes, we contribute to the problem just by virtue of being consumers. It's a fine line, but I nonetheless love working with influencers, because there's so many ways to tell powerful and important stories.
There are a million and one podcasts out there that are hosted by men, but I felt like there weren't many platforms for women, so I wanted to create something to fill that gap.
MD: Working hand in hand with startups, what business trends do you see developing?
KR: I see startups becoming a trend in themselves. With the rise of Instagram and Shopify, we are in an age where anyone with $30 can create a startup (the price of a Shopify store). But because there is a low entry barrier, the space is very competitive and over-saturated. Startup influencers have been telling us how easy it is to launch a startup, and that anybody can do it and become successful. The problem now is that it is too accessible. Instagram influencers also struggle in that way, in the sense that if everybody can be an influencer, is anybody really? This over-saturation, particularly of lifestyle brands, has been a trend, and we might see things taper off as more people try and fail. The general trend is that everyone will be an entrepreneur, and everyone will have a side-hustle, if they don't already, but the meaning of entrepreneurship will drastically change.