"I cried, I laughed loudly, I clapped, and I snapped furiously!" These are the first words I told the cast of For Colored Girls Who Have Considered Suicide When the Rainbow Is Enuf before starting our short interview, which quickly turned into a friendly discussion between Black women.
For Colored Girls is a piece that was originally written by Ntozake Shange in 1976. This piece consists of poetic monologues accompanied by music and choreographies (known as choreopoem). Each poem tells the stories of seven women who have suffered some form of oppression at different points in their lives.
The McGill Daily: You talked about intimate subjects and displayed a lot of personal things. How did you feel doing all of this in front of an audience? What were the highlights of the piece, and the main challenges faced?
Benita Bailey (Lady in Red): Because these women [on the cast] are amazing on and off stage, as you can see, it was not difficult to be vulnerable. Presenting the last monologue was the hardest for me, and everyone knows that here! I was really terrified to get my shit together till the end. [My trust in all] the girls [made it] possible for me to just give it my all. I found it hard to keep my emotions contained when scenes such as the abortion one were being played [editor's note: the Abortion scene is when the Lady in Blue, too ashamed to have people look at her getting an abortion, proceeds to execute an abortion on herself, alone]. Like, you want to feel the emotions but at the same time you can't let them overwhelm you. The Pyramid scene blew me away because every time I felt like [the Lady in Purple] were telling us sisters [her] story, so [she] must have been doing something right! [editor's note: the Pyramid is a monologue where the lady in Purple reminisces on when she found herself in love with a man two of her friends were also in love with].
My biggest challenge was obviously my last monologue. What I struggled with is that I didn't believe I could do it, because I had never done such a long monologue before. I did not tell Munya because I thought she would freak out. It was especially a challenge because being a Black actress coming from Europe, I [usually] don't get main roles… I get certain [type-casted] roles. So, all of a sudden I have this amazing monologue that I've never had the chance to do before. Every day I came to the girls and told them I couldn't do it. The last week, everybody knew their lines and I was freaking out because I didn't. I stayed up until 2 a.m. because I was freaking out. I was waiting for the girls to tell me something that would crush me, but they always encouraged me and helped me!
Munyaradzi Guramatunhu (Director) (MG): I told her she could do it. (laughs)
Being a Black actress coming from Europe, I [usually] don't get main roles… I get certain [type-casted] roles. –Benita Bailey
Lorna Kidjo (Lady in Yellow) (LK): I feel the same way. The fact that we've become so close, that I know that I'm with the girls, is what allows me to put so much out there. Because yeah, I feel exactly like [Bailey] said, safe.
Nelly Zarfi (Lady in Brown): Personally, this choreopoem helped me because I am still going through a heartbreak, and so many poems resonate with me. Sometimes you want to be loved and you want it so much that you put yourself out there. But there's a point when you're like "I gave you everything, please love me." This kind of begging thing is something that has happened to me and I love the fact that there are other poems that are like "no, you need to love yourself first," and those are the answers and emotions you're going through in relationships. Those poems give me great answers, so this was a great thing because it built a sisterhood, and I also think we learned a lot about womanhood.
The fact that we've become so close, that I know that I'm with the girls, is what allows me to put so much out there. Because yeah, I feel exactly like you [Bailey] said, safe. –Lorna Kidjo
Jamila Joseph (Lady in Purple) (JJ): Doing this play felt full-circle for me. I felt like meeting [the cast], being able to play Lady in Purple, being part of this production was all written in the stars. I feel like they were all missing from my sisterhood. This is my first acting gig, and I was extremely nervous. Speaking and having to do scenes then go into feelings I don't really want to talk about and revisit was really hard for me. I had to face a lot of insecurities and fears and traumas and things I did not want to deal with. But having a group of women that were doing the same thing as me — telling the honest story of Black women — made me feel like I had women backing me up. There was a moment when we were doing the Abortion scene and I got really emotional, and I didn't feel like I could be part of it. And I had all these women just come to me and be like "Are you ok? I'm here for you." I know that it exists and that I have sisterhood in my life, but these are all women I didn't know, I [had] just met them, and it just reaffirmed what Black female sisterhood meant [to me]. I didn't have to actually know you to know that we love and care about each other. It wasn't only about me, it was about all of us. This sisterhood made me feel very grounded and secure even though we are all very different and similar at the same time. And it's ok! Sisterhood isn't only about namaste and kumbaya, you know what I mean? We're not going to agree on everything, we're gonna have different feelings about things and want to express ourselves in certain ways, and still all do that and have respect for each other. And that makes me love them even more because I'm like, "Wow, you're such a strong woman and we're all different, and we can still see the bigger picture and work together."
I had all these women just come to me and be like "Are you ok? I'm here for you." –Jamila Joseph
For me, the hardest part of being Lady in Purple was telling the Pyramid story. If I ever had a boyfriend and found out my friend was sleeping with him, it's deuces both ways, and goodbye, you know what I mean? Or a talk with my sister like "What the hell? What's going on?" It was hard for me to be sad and to do the begging kind of thing because that's not me anymore. I've been in that situation before in my life. I feel like there's always that one person that will make you do things you never thought you would do. I did not want to revisit that part of my life, and knowing I had to resurface that emotion more than once was like "Urgh, I don't wanna do that! I don't want to give it tears." But I had to face those things and to realize that it is not because I'm bringing these emotions back that I'm here again, that that person is still around, that I still think the same. It is okay to act in this moment, especially when you're not there anymore.
LK: I agree with you. I feel like we've gotten so close so fast because of every rehearsal that we had and the piece we're working on. I usually take a long time to get close to people and this has happened so fast. I feel that it was made possible only because of everything [Guramatunhu's] done for us.
Inès Vieux Francoeur (Lady in Green): When I first read the script, I felt so many emotions. Even though some of the experiences in the texts did not happen to me, I was still able to relate to them by thinking about certain moments of my life. The fact that this play was written in the seventies and is still relevant today was honestly breathtaking. And to perform that in front of people, and bring out things that I wanted to stay buried, and putting that out in front of an audience is definitely an interesting and necessary experience. Honestly, a real sisterhood blossomed between us, and this is really amazing because it is what the play is all about. Being able to live this experience with [the cast] is just amazing. Personally, I did not have any problem with performing in front of strangers. It's more when people I know are in the audience that I get really anxious because sometimes I feel like they know what and who I am talking about.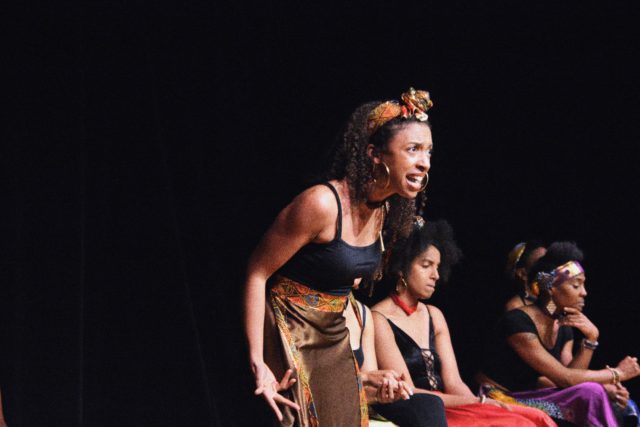 The part I had a lot of difficulty with was "There's No More Love Poems," where I talk about giving yourself to people, and not wanting to deal with emotions, while denying yourself the right to express sorrow and to be sad because you think that being a women of color gives you no right to be sad. That definitely hit home. There was also the piece about graduation night where myself and Lady in Blue report [to] people that something bad happened at graduation night. Sexual violence is always hard to talk about in any circles, so it was hard to deal with it while containing my emotions.
Keren Roberts (Lady in Blue): This play was something new for me. I kind of heard about it but did not really know what it was until I saw it a few months ago. I was blown away by the honest stories. And I don't think I've ever seen such sisterhood in my life. To see it on stage, and to see it be performed by these beautiful women was like—oh god, there's beautiful theatre out there which lets us be human. [And altogether], you know, sassy and sad and in all our shapes. So when I heard about this I was like, "Okay, I don't know how it's gonna go, but imma try." And I found we're all sisters; we're all from different continents, so that's new to me. I feel like I'm easier to get to know through acting because you'll see my extremes and my less-extreme habits. I have very little in common with Blue, [since her story was way more tragic than mine]. I had to really use my imagination, to put trust in the words so that even if I [couldn't] picture it, the words [were] still there. So finding a way to make the words work was my main challenge.
To see it on stage, and to see it be performed by these beautiful women was like—oh god, there's beautiful theatre out there which lets us be human. [And altogether], you know, sassy and sad and in all our shapes. –Keren Roberts
My biggest challenge [was] the Abortion scene. It is so tricky because it was actually the shortest monologue, but you have to tell [an incredibly tragic and painful story]. [The Lady in Blue has] horrible flashbacks, and she's still going through traumatic events. "I didn't tell anybody. Nobody helped, nobody came." [This put me] into a very vulnerable position, which [has been] really hard for me. I don't know how I'm going to do it every night.
JJ: The best part was Sechita because I got to dance, which is something that I love to do [Sechita is a folkloric Creole dancer, and is the name of the scene where Lady in Purple describes and embodies by dancing Sechita's life]. And every group scene was incredible for me because I knew that I wasn't alone, that my girls were here with me.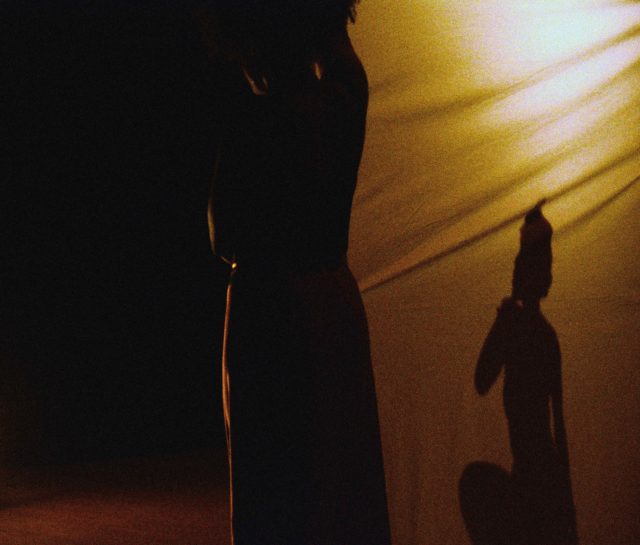 MG: I could see the progress over time with these girls. You see, in certain situations, people perform a piece well once and then continue to perform it on cruise control, but these girls never did it. The magic happened every time they performed the piece.
For Colored Girls is a beautiful piece which was created, produced and realized by Black women for Black women. Depicting the rainbow of emotions we are allowed to express, this deserves significantly more recognition than it is getting at the moment.
Such an important and historic play should not limit itself to the basement of Morrice Hall—it deserves a bigger platform and audience than simply McGill. Black women are rising and shining more than ever today. Let's give them a chance to be known, and to be acclaimed for their amazingly strong will.
This interview was edited for the purpose of clarity.