The VP Operations handles managing the use and coordinating the development of the Shatner building, overseeing the management of SSMU's business operations including Gerts, MiniCourses, and the Student-Run Cafeteria (SRC), and operationalizing SSMU's goals of environmental sustainability.
---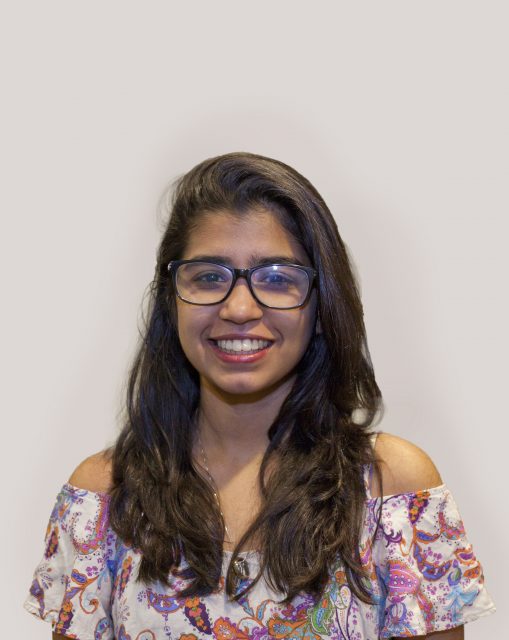 Anuradha Mallik
Anuradha Mallik is currently a floor fellow at Molson residence. She has extensive experience with the Secondary Schools' United Nations Symposium (SSUNS) and McGill Model United Nations (McMUN) as Chargée D'Affaires and Deputé Chargée D'Affaire in 2017 and 2016, respectively, and as a Dais Member in 2015, 2016 and 2017. She was also a facilitator at last year's Canadian Conference on Student Leadership and Head of Communications for Water for Life in the 2013-2014 academic year. Talking to The Daily about her experiences working at SSUNS, Anuradha said: "[It] consists of organizing a conference that about 1,500 people attend every year, plus about four hundred staff, so I've had a lot of experience with operations, contracts, the works, for […] the venues and every external body that we get involved in the conference." Mallik is also proficient in French.
Mallik's platform contains four parts: the Sustainability Policy, Sustainability Cooperation, Building Projects and Proactive Communication, and Revenue Generating Operations. In regards to her portfolio, Mallik wants to put an "emphasis on sustainability."
Mallik views SSMU as a political actor and believes that "the point of the executive is to represent the voices of the constituents," as "McGill is quite a politically charged environment with a lot of issues." She hopes to "work with the University Affairs to go through the policy handbook because […] a lot of them are expiring soon and a lot of them need to be renewed."
Endorsement: YES
Mallik has an extensive understanding of the logistics of event planning and organizational work through her experience with SSUNS and Water for Life. This, in addition to her willingness to stand by political initiatives, such as advocacy around the creation of a sexual assault policy for SSMU, and the presence of 'active bystanders' in Gerts (which is run by the VP Operations), make her a strong candidate for the position. Additionally, Mallik has experience with sustainability initiatives, which is now being applied to her vision as VP Operations. Due to Mallik's enthusiasm for equity, and the steps she has already taken to prepare for a potential VP position, The Daily endorses Mallik for VP Operations.
An earlier version of this article stated that Mallik's quote, "[It] consists of organizing a conference," referenced her involvement with McMUN. In fact, it concerned her work with SSUNS. The Daily regrets the error.