After having brunch at Bagel Etc during her visit to Montreal last February, Shireen Ahmed sat down with The Daily to discuss the experiences of Muslim women in sports and sports writing. Hailing from Halifax, Ahmed is a Toronto-based freelance writer, sports activist and lifelong soccer player. Many began to follow her work during the 2016 Olympics, where her Tweets and articles offered a critical analysis of the politics behind the games.
Stroking her green neon socks, Ahmed said, "I actually tried to go on vacation to PEI [Prince Edward Island] with my children [last summer]. I thought, nobody is gonna want to talk to me. But I've been nonstop busy since August."
Ahmed has also worked in social services, using sports as a vehicle to support women and youth who have dealt with trauma and violence. Her work has been featured and discussed in The Guardian, The National Post, The Globe and Mail, VICE Sports, Jezebel, espnW, Media Diversified, Muslimah Media Watch and more.
McGill Daily (MD): You call yourself a sports activist. What does that mean to you?
Shireen Ahmed (SA): Advocating for equality and social justice by means of sports and advocating for the inclusion of Muslim and athletes of colour in sport. Sertaç Sehlikoglu, curator of Muslim women in Sports blog, coined the term.
MD: How long have you been playing soccer for?
SA: I've been a soccer player since I was five. I've always played, I play in gramma league now to be honest. But my experience was significantly altered when I chose to wear a headscarf when I was 20 and playing for the University of Toronto […]. At the time, there was no formal hijab ban, but there was nothing in the rules to allow me to play either. So I was left up unofficially to the referees. I suited up for a summer season in '98 and paid for twenty games and I was allowed to play three. I found that demoralizing, humiliating and frustrating so I moved on to rowing [which] didn't have restrictions on what you could wear.
Quebec was the last province and soccer federation to [accept the end of FIFA hijab ban].
MD: And you've been playing ever since?
SA: I have. I went back formally a few years ago. [Before that] for a while I was playing pickup on an unofficial league called Muslim Youth Soccer League which actually gave women a place to play. It wasn't affiliated with Ontario Soccer or Canada Soccer, because [those federations] followed the FIFA rules, and FIFA had until 2012 banned the hijab. But in July 2012, FIFA sent a memo to [its affiliates] about a temporary lifting [of the ban]. And then I joined a league and the they let me play. [FIFA] formally lifted the ban in 2014.
MD: How did these experiences impact the work you do today?
SA: I started reflecting on those experiences [as a social worker and a soccer player], got myself writing […].I started researching a lot about Muslim women in sport, politics, histories and misconceptions. I wasn't really happy with the way [this writing] was being done because the landscape of Canadian sports media is very, very male and white… and let's just say they lack a little bit of nuance. And I decided to do it myself and here I am.
I'm not pretending that I could've gone pro, but I'm saying that I didn't have the choice.
MD: We are in the province of Charter of Values… What are these bans like in Quebec?
SA: In 2007, Asmahan Mansour, an 11-year-old soccer player from Ottawa, was rejected from a tournament in Quebec because she wears hijab. […] Her case went up to FIFA and this was the year that [hijab was officially outlawed]. How did they come to the conclusion? Because a bunch of guys just decided it wasn't allowed. [In 2012,] with the temporary lifting of the ban, Ontario and BC were like, okay, wear hijab, it's fine. The ban was lifted in March 1, 2014, and Soccer Canada and Soccer Ontario were very supportive. Quebec was the last province and soccer federation [to accept the ruling] and […] waited until [the ban] was formally lifted. Why? Because in the entire world, there's only one other federation that doesn't allow headcovers: [the soccer federation in] France.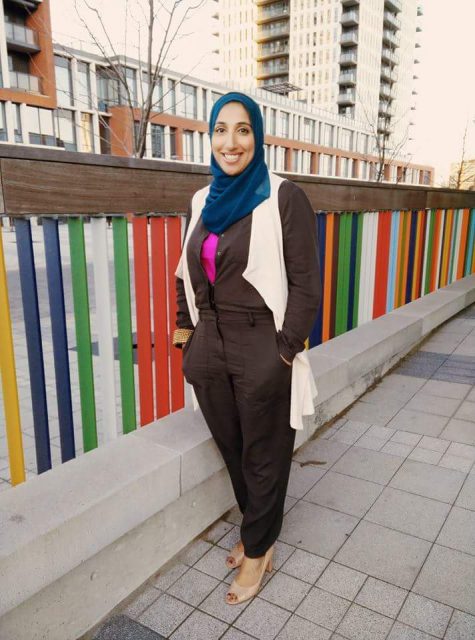 Courtesy of Shireen Ahmed
MD: What are the reasons given for these bans?
SA: To this day there's not one piece of empirical data that shows that hijab has been to the detriment of a player or the opponent. There's none. I've looked for it everywhere! Same with basketball. There isn't one piece of shred of evidence that a hijab that's tucked into a kit has hurt anyone. People have been hurt by jewelry or long braids being whipped into the face, but not a hijab.
MD: What do these bans look like for university athletes?
SA: CCAA [Canadian Collegiate Athletic Association, the national governing body of sports in Canadian colleges] doesn't adhere to the international federation rules, because [university athletes] are amateur level. For example, NCAA [National Collegiate Athletic Association, governing sports in colleges and universities in the U.S.] allows hijab. So FIBA [which has banned players from wearing the hijab] doesn't govern NCAA so hijab is allowed, which is really bizarre because you had Division I NCAA basketball players like Bilqis Abdul-Qaadir not being able to go pro because of her hijab, so that was terrible. In a new movie [titled FIBA Allow Hijab] she's very vocal about how stressed she was, how painful it was to not be able to play because basketball means so much to her […]I know this feeling because when I was told I couldn't play because of my hijab, it was taking a piece away from me. I played soccer most of my life and I'm not as good at soccer as she is in basketball and I'm not pretending that I could've gone pro, but I'm saying that I didn't have the choice. My daughter [who wears the hijab] works hard and will continue to work hard because she has an opportunity to play soccer professionally, she's seen it be done. She's seen in the FIFA U-17 Women's World Cup in Jordan just this past year, she's seen them play.
When I was told I couldn't play because of my hijab, it was taking a piece away from me
MD: So how do you think universities like McGill better support Muslim athletes?
SA: By better understanding the needs and requirements of students and not just for the athletes, for everyone who wants to be involved in sports. […] How are we going to elevate sports for people? What can we do to reach out to more folks? You need to make your facilities accessible for people with disabilities. For student athletes [inclusion is] everything from dietary requirements to training in Ramadan. A good model, a high school football team in Dearborn, Michigan, majority of players are Muslim-Lebanese, so they had their training after dark. And it's not just nutritional support, athletes of all intersections need the support they need to handle the culture of sports, which in this country is still very white. [Universities could ensure] athletes of colour have they need to navigate those systems.
MD: What are the biggest barriers to Muslim women's participation in sports?
SA: For muslim women and women from ethnic communities in this country, from my research, the biggest barriers are access to equipment, financial support, a sports culture they're not familiar with […] general toxic culture of masculinity in sports. [Muslim women] have to battle gendered islamophobia […] in sports. It can be a lot to handle. As far as Muslim girls go, [barriers] can be anything from body image, doubt. Young Muslim women suffer the same trials and tribulations as any other young woman, like lack of support from society to mixed messages to identifying what an athlete looks like.
The reason I looked to Jan Wong is because she's smart but also because everyone else looked like Margaret Wente.
MD: And that brings us to role models and representation!
SA: Representation is crucial and that's why Ibtihaj Muhammad [Black, hijab-wearing Muslim woman fencer on Team USA] is important to so many people […] Serena Williams is playing in a very white dominated field and conquering that field. I did a piece on Jeanne d'Arc Girubuntu who is not a Muslim woman but she's from Rwanda. She's the first female Black cyclist from the entire continent of Africa. All the other cyclists are wealthy white women. These representation open up doors and inspire people. They really make young women reflect and think, I think I can have this, I love this, why not. I would love to see young muslim women break it into hockey. But even before we get to Muslim women, Canadian Women's Hockey League players aren't paid. So let's be clear, it's not as if the North American model is a bastion of freedom for women in sports and exemplary in equality and feminism. Because it's not. The strongest soccer team in the world, the American women, are not paid as well as the American men are for doing one-eighth as well. […] People new to this society may not want to throw their daughters into something that isn't fair to begin with. Like how much of an uphill climb?
MD: How about representation in sports writing?
SA: When I was growing up in this country, the one writer I looked to was Jan Wong, she is a former writer for The Globe and Mail and is from Montreal, she is actually Chinese. I'm of Pakistani descent, we don't look anything alike! The reason I looked to her is because she's smart but also because everyone else looked like Margaret Wente. Now you have people like [The Globe's] Denise Balkissoon, Hannah Sun who are brilliant, VICE's Manisha Krishnan, but still the sports side is not as diverse. There's one person at the Toronto Star's sport desk who is a person of colour, Morgan Campbell, he's great, I know him, and yes we've had coffee. There's so few of us doing this and we all know each other.
MD: I find that as a writer of colour, it's often very hard to have my voice heard. What are your thoughts on that?
SA: In a lot of circles in this country, white people are the gatekeepers. And how does [resisting] that work in sports? You make your own space. I had a friend tell me, I've never been given a seat at the table. And my advice is, build your own chair. Bypass that, get your work done […]. You're not gonna get invited. The way it stands particularly in Canadian sports media, you're not gonna get invited unless you make noise and to make that noise you have to work hard, you have to stand by your stuff, have diligent editors and publications that have your back.
---
Ahmed blogs at footybedsheets.tumblr.com. Follow her on Twitter @_shireenahmed_.