The VP Student Life was previously named the VP Clubs & Services. The restructured portfolio now deals with clubs and services, student services, mental health initiatives, and independent student groups.
Elaine Patterson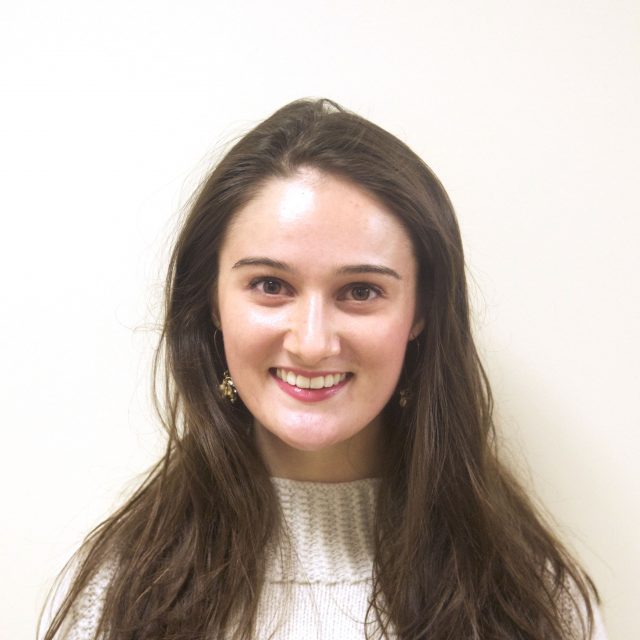 Elaine Patterson is the current VP Communications of the Arts Undergraduate Society (AUS). Before that, she was the Living Learning Communities (LLC) Rez Life Facilitator and the VP Communications for the Carrefour Hall Council. She told The Daily that she is "passionate about working with other students," and that she really likes "how much facetime this position gets with students." She is also very excited that the mental health portfolio was added to the position during the restructuring, saying that this is one of the reasons why she is running.
For Patterson, the most important aspect of the VP Student Life position is being a liaison between students and the McGill administration. In addition, she believes that the VP Student Life should be approachable, meaning that any student should absolutely feel free to consult her with any matter regarding her portfolio, be it conflict resolution, budgetary issues, or other concerns.
For the mental health portfolio of the position, she wishes to harmonize McGill's mental health services. She promises to host a Mental Health Services roundtable each semester, where all eleven mental health services can talk about their initiatives and plans for the future. She also wants to be a liaison between residence and off-campus floor fellow communities and McGill mental health services, to make sure that first-year students can easily access these services.
Patterson sees SSMU as a political actor, arguing that students are "invited to share their opinions with and through SSMU [with] the rest of the student body and [with] the McGill administration." To that end, she promises to try her best to represent the views of constituents who are involved in SSMU clubs and services. Furthermore, she believes that it is difficult to determine which issues can be considered "external" to campus, given how international McGill is. In addition, she believes that it's natural that students are divided on issues and that it's important to make sure that "both sides, or however many sides there are about a certain issue" are being heard.
Dushan Tripp
Tripp, a U3 student, currently serves as a Clubs & Services Representative to SSMU Council. Within SSMU, he is also a member of the Funding, Club, and Referendum Committees – the latter of which he is using to campaign for an opt-outable Club Fund fee. He hopes to bring this experience, as well as his tenure as VP Finance for the Tonal Ecstasy A Capella club, to the position of VP Student Life.
Citing space and funding as main concerns for the over 230 clubs at SSMU, Tripp plans to make these issues the pillars of his campaign. In that vein, he aims to work with the incoming VP Operations to continue changing the distribution and booking of club rooms on the fourth floor of the SSMU Building, to create more bookable rooms as well as new storage rooms by the beginning of the Fall 2016 semester. Additionally, he plans on taking a second look at the viability of an online information and resource portal for clubs.
Other campaign points include efforts to make the club creation process easier and more transparent, to promote the visibility and accessibility of SSMU's mental health projects, and to maintain a balance between transparency and efficiency.
This is the first year that the position of VP Clubs & Services has been expanded to include many of the former duties of VP University Affairs; Tripp recognizes that it will be difficult to do both jobs, but remains optimistic about the goals he has set. To be fair, those goals are quite modest, and, in the case of his transparency versus efficiency claim, incredibly vague. But with the possibility of services shutting down to balance SSMU's budget, having modest goals is perhaps the most realistic approach.
While recognizing the political nature of SSMU, Tripp sees the Student Life position as focused on improving administrative structures. Thus, he says if elected he will vote in accordance with the majority opinion amongst the student body, not necessarily his own personal opinion.
Endorsement: Elaine Patterson
While both candidates have experience relevant to the Student Life portfolio, Patterson's term as an AUS executive should better prepare her for the role of a SSMU VP. Furthermore, her work with Living and Learning Communities (LLC) has provided valuable experience interacting with and coordinating student groups, a core duty of the VP Student Life.
Also, in contrast to Tripp's vague "holistic approach" to mental health, Patterson's platform contains several concrete ideas with respect to the mental health component of the Student Life portfolio, such as a semesterly mental health services roundtable.
As such, The Daily endorses Patterson for this position.