Correction appended September 24, 2014.
From September 15 to 19, the Social Equity and Diversity Education (SEDE) office hosted McGill's annual Indigenous Awareness Week. The week-long series of events is meant to honour and celebrate Indigenous cultures at McGill and beyond, and help increase awareness within the McGill community about Indigenous peoples. Events included everything from lectures, to panel discussions, to workshops; here is a small selection.
Two-spirits: history and survival | The KAIROS blanket exercise | Healing and decolonizing: impacts of the institutionalization of Indigenous children | Holding the academy accountable: Indigenous studies and community inclusion | Indigenous students at McGill: before and beyond graduation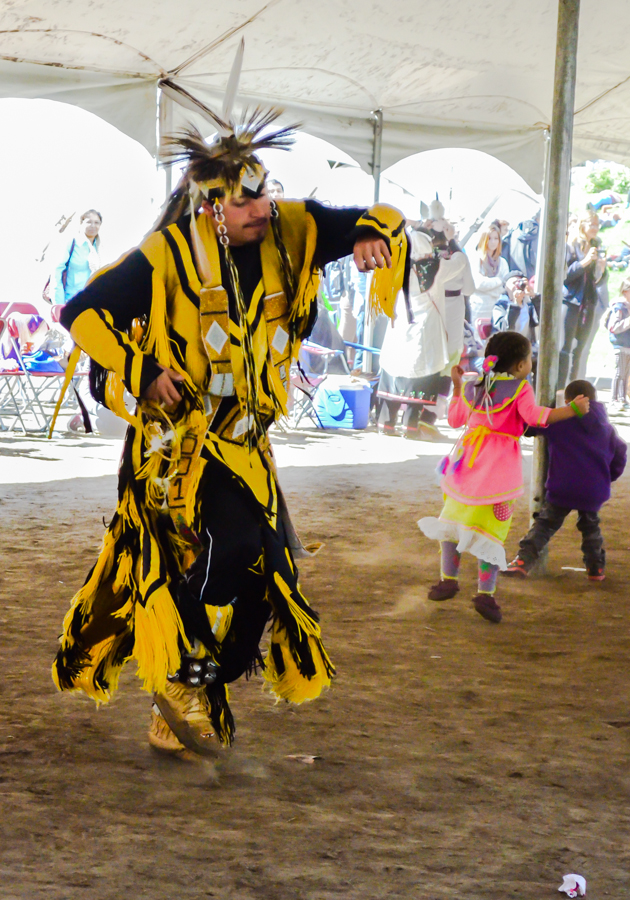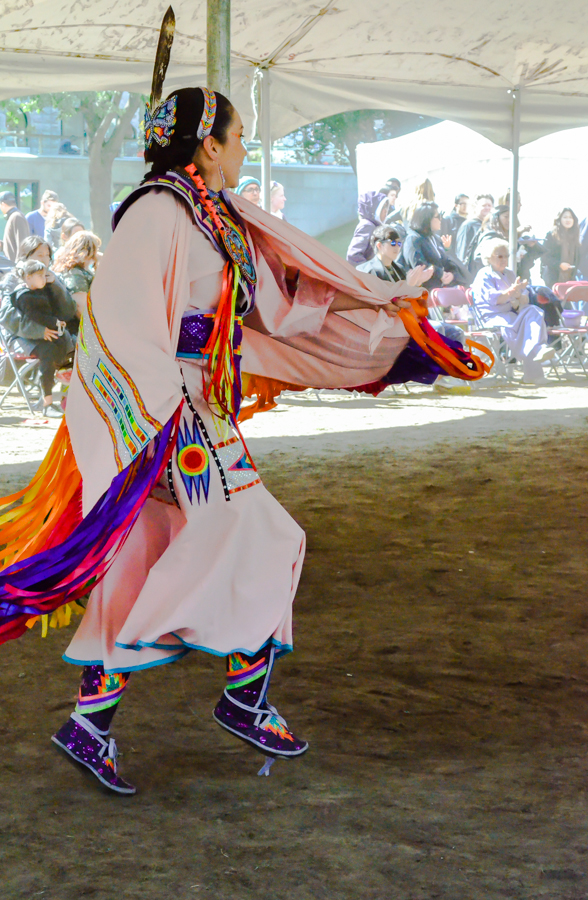 Two-spirits: history and survival
On Thursday, Ben Geboe, a PhD student at the School of Social Work, gave a lecture about the history and survival of two-spirit people at the Native Friendship Centre of Montreal. The lecture lasted about an hour, and focused on Geboe's experiences as an Indigenous person in the LGBT community and on the meaning of the concept of two-spirit.
According to Geboe, two-spirit people are those who identify as both female and male. "While everyone has a combination of male and female spirits, two-spirit people have male and female spirits that are the same size," explained Geboe.
Geboe grew up on the Rosebud Sioux Reservation in South Dakota, U.S.. While he said that his tribe was very open to people who identified as gay, not all tribes were as welcoming. "Every community is different and some [did not] have the acceptance mine did," he said.
Throughout the lecture, Geboe stressed that his tribe didn't have the same gender binary as the Western world. "The main difference between the Western world and Native world is that [in the Native world] no one can tell you who you are, people have to ask you who you are," he explained.
Alan Vicaire, the Indigenous Education Advisor for the Social Equity and Diversity Education (SEDE) office spoke to the goal of Geboe's talk. "[We want] to create a safe space and open [a] dialogue for Indigenous students at McGill. Our primary goal is to educate students," he said.
The KAIROS blanket exercise
The KAIROS blanket exercise, an interactive event meant to illustrate the history of Indigenous populations and their land, took place on Tuesday. During the event, participants played the roles of Indigenous peoples so that they could relate more directly with the history they were enacting, which also allowed for more emotional engagement with the subject of the exercise.
Organizers covered the floor with blankets to represent Canadian lands as they used to be inhabited by Indigenous people. The participants of the event were invited to freely walk on the blankets, to try get used to them, and to try to feel the connection with the land.
Yao Xi Zhang, a McGill Kinesiology student who participated in the exercise, considered the visual format of the event very helpful.
"They tell you [that people] took the Indigenous populations' land. You hear it every day in social [science] class. Some country conquered another country. But when you are [standing] on the blanket, and they are folding the corners [to illustrate the land's usurpation], you realize, 'Oh. It's my territory, and it just got smaller.'"
People who attended the event had a desire to learn more about colonization – precisely because the exercise had an emotional effect on the attendees, they found the exercise more illustrative of the colonization of Indigenous lands than class textbooks that aim to convey the same knowledge.
"[The exercise] is actually more important than the textbook, because we read [textbooks so much], we are not so sensitive to it," Yao noted.
This was the second year in a row that the KAIROS blanket exercise was used during Indigenous Awareness Week. Although event organizers noted that this year's exercise was a bit different from that of last year, participants still found it impactful and educational.
Healing and decolonizing: impacts of the institutionalization of Indigenous children
On Thursday, Lindsey Decontie, executive director of the National Aboriginal Circle Against Family Violence (NACAFV), spoke at McGill about the legacy of residential schools in Canada. Decontie touched on a variety of issues that have a concentrated effect on Canada's Indigenous women, from familial abuse and homelessness to the reserve system.
Ending in the 1990s, residential schools were a systematic plan to assimilate Indigenous children into white Canadian society funded by the Canadian government. The schools were, as Decontie pointed out, places where "Aboriginal children were told they could not speak their own languages, and where there were many definite cases of physical and sexual abuse."
Decontie called the residential schools' legacy today a "historical trauma" that influences, for instance, how an Indigenous woman might seek help after being abused.
As she stated, "what happens is, since they were victims, they might be afraid to ask for help, or reluctant to solve these problems because their self-esteem and self-worth have taken a big hit."
In her presentation, she elaborated on the "stereotypes and assumptions that do exist, not only about Aboriginals who are in this position but also about the shelters that they seek help from." As an example, she pointed out the demeaning stereotype that Aboriginal women "will only be victims for as long as it's profitable to be victims."
To those who believe the situation is improving as a result increased awareness, Carole Brazeau, National Project Coordinator of NACAFV, pointedly warned, "the problem has not improved, it has gotten worse; it was a crisis ten years ago, and it is still a crisis now."
When asked what McGill students could do to help, Decontie responded that "oftentimes people might feel that, there's nothing we can do, this is such a big problem, and I don't know where to start, but it doesn't have to be anything big. It can be as simple as volunteering at a women's shelter, or writing a letter to their local MP [member of parliament]."
Holding the academy accountable: Indigenous studies and community inclusion
On Tuesday, the Social Equity and Diversity Education (SEDE) office and the Students' Society of McGill University (SSMU) co-hosted a panel to discuss Indigenous relationships with academia, exploring both the accountability of Indigenous studies programs to the voices of Indigenous peoples, as well as ways to create decolonized spaces in universities.
Moderator Molly Swain read out the questions, written by SEDE over the summer, to a panel consisting of three speakers: Marsha Vicaire, a doctoral student at McGill who is Mi'gmaq (from the Listuguj First Nation); William Straw, a professor at McGill and director of the McGill Institute for the Study of Canada; and Karl Hele, an associate professor at Concordia and director of its First Peoples Studies program.
Throughout the discussion, Vicaire focused on the perspective of the learner, saying that, as an Indigenous student, she would like to see recognition of the differences between Indigenous and Western culture, as well as recognition that the methods of Indigenous peoples, while different, are also valuable.
"We really need to be valued, respected, and we also need to have that sense of inclusion," said Vicaire, "so I think those would be things to consider within those spaces, within those learning environments."
Hele emphasized the importance of teaching the Indigenous community, as it is a complex society composed of different peoples.
"If you're saying Indigenous studies, it's got to be […] broad enough to include the other communities within at least McGill's [reach]," he said.
Hele also encouraged the inclusion of more Indigenous voices and perspectives in the curricula of Indigenous studies programs at universities, stressing the importance of creating a welcoming place for Indigenous employees as well as hiring Indigenous professors to teach topics unrelated to Indigenous issues.
Straw said that those in charge of funding should make Indigenous studies more of a priority. He also criticized the tendency of other departments to make the Indigenous studies department the sole source of accountability for Indigenous issues, and noted a need to integrate more space for Indigenous students within the curriculum.
During the question-and-answer session, an Indigenous audience member and University of Victoria student spoke to the importance of accepting and utilizing alternative methods of research, such as more conversation-based qualitative data, in order to better represent Indigenous communities.
"We have to be looking through an Indigenous lens," said the student, "and not looking through a separate lens […] and the understandings will come from there."
In five years, said Vicaire, she would hope to see more second- and third-generation Indigenous students at university, as most Indigenous students are currently first-generation, as well as a more welcoming environment for Indigenous students.
"It's going to be coming onto this campus knowing 'yes, I am an Indigenous person and I belong here.'"
Indigenous students at McGill: before and beyond graduation
On Wednesday evening, Indigenous peoples, scholars, and activists gathered to celebrate Indigenous culture, hear from an alumnus about her experience at McGill, and to rethink McGill's founding and its relationship with the Six Nations of the Grand River.
Audra Simpson, McGill alumnus and associate professor of anthropology at Columbia University, stepped up to give a different speech than the one that was expected. Simpson did not solely discuss the significance of McGill and of the forms of training she received for her scholarship, as had been planned, but focused instead on the history and legacy of McGill for Indigenous students.
According to Simpson, the founding of McGill is often narrated as stemming from the 1811 endowment from Scottish merchant James McGill. While the financial problems of the institution's first forty years are often acknowledged, Simpson noted that little attention is paid to the money that was transferred from the Six Nations to McGill in the mid-1800s to rid the university of its financial crisis.
"No mention is made of the crucial transferring of funds from the Six Nations of the Grand River in the 1850s that helped to save McGill from bankruptcy, [and] helped to repair [and] construct buildings. I suspect that was also money that in fact kept the university open," stated Simpson.
Funds from the Six Nations were used without the permission of the communities during the financial crisis, and McGill has never reimbursed the Six Nations for this outstanding debt, which now adds up to $1.7 billion.
"[This unpaid debt should be paid] through a public acknowledgement, and not a superficial one at that, that McGill was kept afloat because of this unpaid debt […] that needs to be acknowledged rigorously," she said. "[Indigenous students] should [… also] have scholarships in the name of each person that signed off on this loan, who in different ways contribute to this complicated history and the flourishing of this fine institution."
Simpson added that compensation for this debt should also be made through hiring more tenured Indigenous scholars and professors. "But what is needed along with this big commitment to revitalizing hidden pasts, forgotten pasts, non-commitments to pasts, is diversifying this university. And here I want to ask, 'Where are the Indigenous scholars at McGill, scholars in tenured positions?'"
She also noted that McGill's new Indigenous studies minor is a good start, but that the university should aim for an Indigenous studies major.
"I am very happy to hear that there is an [Indigenous] studies minor. That makes me happy. Let's go now for a major."
A previous version of this article stated that Holding the academy accountable: Indigenous studies and community inclusion was hosted by SEDE. In fact, it was co-hosted by SSMU and SEDE. The Daily regrets the error.