Upon entering the gallery, visitors are greeted with a face off between a man and woman. The two are staring each other down from either side of a delicate wall of white string made to look like bricks. A moment passes, and the woman – Vessna Perunovich, the artist herself – parts ways with her male counterpart. The artist wasn't actually performing: this was a projection of a recent performance piece, Borderless. Perunovich's work explores this standoff motif and themes of self-fabricated barriers as well as femininities, which are exemplified by Borderless, throughout her exhibit.
The exhibit, on show at MAI (Montréal, arts interculturels), seems to have an undeniably clear focus in its selection of performance and multimedia art, with pieces spanning roughly a decade of Perunovich's career. This is her first exhibit composed solely of these media forms, and the MAI explains it is centred on physical barriers. More precisely, borders take precedence as they relate to the Serbian artist's struggle with the dissolution of Yugoslavia. As Canadian Art points out, Perunovich implicitly challenges gender norms through her unconventional use of traditionally female activities. This is reflected in her construction of the string bricks in Infinite Wall, a centrepiece of the exhibit and the setting for the aforementioned Borderless.
In a sense, these two pieces set a discernible tone for the exhibit, in which, through one's own actions or through oppressive norms and power structures, "barriers" are unwittingly constructed and maintained. In Infinite Wall, the artist uses weaving, which she notes is a stereotypically feminine skill; in Borderless, she is separated from an archetypal man by virtue of this work, which is assigned to her by society's prescribed gender roles. Inevitability and repetition are just as ubiquitous as these constructed borders themselves in "Seamless Crossings." For instance, Erik Satie's "Gymnopédie no.3" plays in a loop, like the pieces' projections. When asked about her choice of ambient music, Perunovich stated that it gives an impression of "walking," of slow, steady movement. This pace corroborates a few of her other performances which are screened. In these, she walks, carrying a huge bundle of pink balloons or weighed down by a puffy white mattress in the streets of New York City.
Here, the movement is relentless, just as gravity is in one of the exhibit's photo series (in which she is suspended by red ribbons), or as the undulation between destruction and peace is in her bombastic piece (W)hole House of Exile. The repetition quietly beckons you into an uncanny sense of comfort, like the soothing "I love you" you can listen to through earphones in a far corner of the room; yet the undercurrent aggression between the man and the woman in Borderless and the seemingly out-of-place nuclear blast of (W)hole House utterly perturb.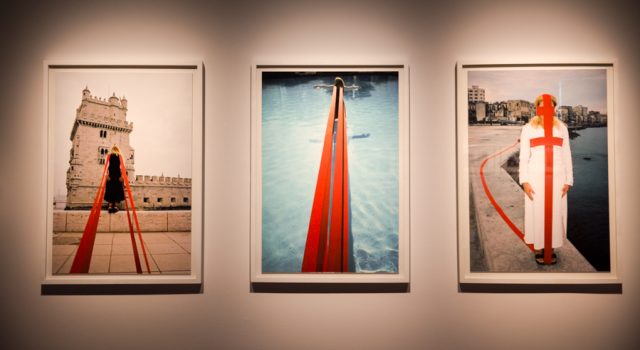 This comfort/discomfort, this unending insecurity-on-the-cusp-of-safety echoes the broader theme of borderlessness or dissolution of one's home, which Perunovich said she partly intends to convey during a Q&A at the vernissage. Well into this question period, she addressed an anecdote concerning (W)hole House of Exile, saying that "the house is an important metaphor for us: it is everything. It can be a place of safety but can also be a place of ruin." Here, the theme of familiarity through boundaries was explicitly addressed. The roles foisted upon her by involuntary circumstance, whether gender stereotypes or political instability, are instituted by default, so we often tend to mindlessly continue walking and carrying that mattress, or building a wall out of embroidery – the gender roles become self-fulfilling prophecies, reinforcing themselves over time and through repetition.
"Sometimes [borders] can be very subtle and invisible," said Perunovich. It is in this way that they are upheld, through uninformed consent. "Seamless Crossings," then, viscerally reveals this lack of information, showing us that any border is artificial and is ours to notice and change.
---
"Seamless Crossings" runs until February 15 at MAI (3680 Jeanne-Mance, #103).