On Friday around 80 people marched from Bethune Square near Concordia University to the front of the SSMU building to rally against gendered violence. Take Back The Night was organized by the Centre for Gender Advocacy's A Safer Concordia Campaign. The demonstration is part of a series of events that have taken place internationally since 1975.
"When I came to Canada I thought I found a safer space, but I found that the violence was just more subtle," said Sophia Starosta, originally from Brazil, and a member of Action Santé Transvesti(e)s et Transsexue(le)s du Québec (ASTT(e)Q). "As a woman, as a trans* person, as an ex-sex worker, I encounter violence made by men against all kinds of people who are not men and that's why I'm here to try to bring awareness to that."
The Reproductive Justice League Choir opened the demonstration with songs on rape culture. Families of Sisters in Spirit, ASTT(e)Q, Sexual Assault Centre of the McGill Students' Society (SACOMSS), and Women in Cities continued with speeches on gendered violence.
"We spend so much energy answering what rape culture is that we often miss out on opportunities to ask what would a world free of rape culture look like."
"About one in four students experience sexual assault during the course of their post-secondary experience. About 80 per cent of these are women and so we realized that there was this epidemic of sexual violence," said Bianca Mugyenyi, Programming and Campaigns Coordinator for the Centre for Gender Advocacy.
Rape culture was a highlighted topic at the demonstration. "I think rape culture is the culture of disbelief of the survivors, victim blaming, and systemic sexism," said Julia Nadeau, an advocate for the Safer Concordia Campaign.
"The more widespread these marches and other awareness campaigns become, the greater the challenge there is to rape culture," said Mugyenyi. "People are talking more about rape culture, and realize that it's not acceptable to normalize, minimize, excuse, and condone sexual assault."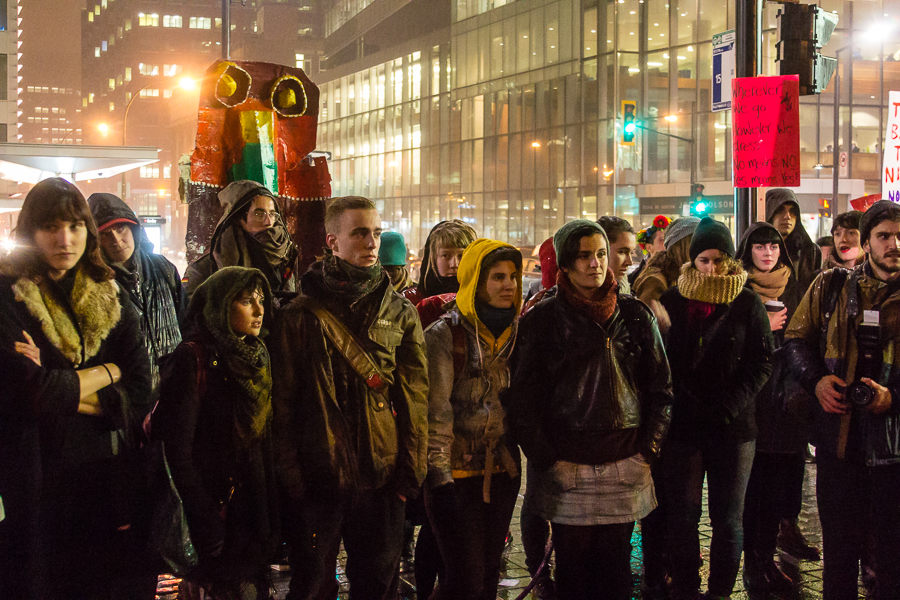 Aurélie Lanctôt, a member of the McGill Law Feminist Collective, also felt the demonstration was an important step towards combatting gendered violence. "It's important to manifest in public spaces, to remind people of issues that might not be apparent but still exist."
Aimee Louw, another demonstrator at the event, also brought up the issue of gendered violence towards women with physical disabilities. "Over 60 per cent of women who have disabilities will experience some form of gendered violence. […] There is often a feeling that women with disabilities will take any form of sexual attention they can get and that is […] a stereotype that is damaging to a lot of women." Louw told The Daily.
The controversy regarding McGill's silence over the sexual assault scandal involving three football players was a topic of interest to several of the demonstrators. "Obviously gender violence is a huge issue and it's largely ignored by the McGill administration. […] Misogyny manifests itself in so many ways and there's a need to keep discussing that," said Kai O'Doherty, member of the Union for Gender Empowerment.
"People are talking more about rape culture, and realize that it's not acceptable to normalize, minimize, excuse, and condone sexual assault."
Another demonstrator, Sabrina, felt the University could play a larger role in addressing gendered violence. "I think [universities] should have rigid rules in place where there is zero tolerance for assault at any time. In order for people to feel safe, they have to know that if something [happened] to them it would be dealt with."
Jordana, a representative of SACOMSS, told The Daily, "We spend so much energy answering what rape culture is that we often miss out on opportunities to ask what would a world free of rape culture look like. […] We come together and march for a world free of fear, where the world belongs to everyone."