Technology startups are undisputedly big business nowadays: the top tech investment firms manage funds worth tens of billions of dollars; apps that make literally no money can afford to turn down buyout offers with nine zeros on the end; and programmers now command starting salaries well in excess of bankers or lawyers.
Fuelling this boom, in part, are tech accelerators: startup bootcamps, where fledgling ideas have the respectability of a business plan stamped on them, are packaged with upward-trending graphs aplenty, and then sold to the baying crowd of investors. However, as much praise as seed accelerators often accrue, they're very much focused on selling a product to investors, rather than nurturing the people behind the plan. A Canadian not-for-profit, called The Next 36 (N36) and based in Toronto, is trying to change that, with a different model for what it thinks a seed accelerator should be.
At heart, a seed accelerator is an incubator for technology startups. Companies exchange equity — normally around 5 to 10 per cent of their total worth — in exchange for a bit of startup capital, and an intensive programme of mentoring and networking from an all-star cast of mentors, often including the CEOs of companies like Twitter. It all culminates with a make-or-break pitch to investors, where they'll try and sell off a little bit more of their company in return for a much greater wad of cash. Firms' success or failure is very much judged on their ability to attract venture capital (VC) backing; either they get funding, and develop their idea, or they're back to the drawing board, no further along than they were when they started the process.
The Next 36 takes a different approach. For starters, unlike the biggest seed accelerators in the U.S. such as Y Combinator and Techstars, it's a not-for-profit, funded by donations and any operating profits it makes. That's because the main aim of N36, according to Jon French, the programme's Director of Marketing and Events, is "to accelerate the growth of individuals, rather than necessarily their ventures." N36's aim is to encourage the next generation of entrepreneurship in Canada, using the seed accelerator model as "a hands-on approach to teach a select cohort of entrepreneurs the skills they'll need."
As such, the model of this accelerator, and its philosophy, is dramatically different from others'. Applicants apply as individuals, and on the basis of their own background, rather than pitching an actual venture. Applicants are also all final-year undergraduates, or recent graduates.
More interestingly, only around a third of the applicants have a technical background — a marked difference from Silicon Valley accelerators, where the overwhelming majority of candidates are "geeks with computer science degrees and an over-inflated sense of self-worth," according to one venture capitalist who wished to remain anonymous. At N36, around a third of any particular cohort are from a business background, a third technical, and a third from "all other walks of life," according to French.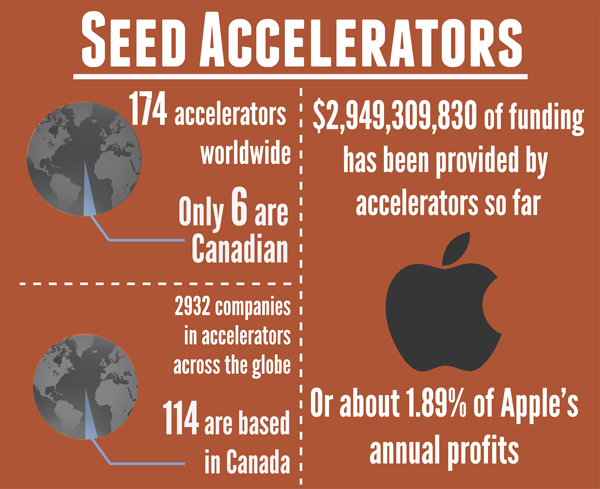 The program's structure is also radically different from other seed accelerators. Each N36 cohort is in the program for nine months, starting in November each year. The 36 budding entrepreneurs are partnered into teams of three, with a rough division of skills. It's an immediate start: according to Brian Luong, a McGill alumnus who was part of the most recent N36 cohort, the first night is an intense experience. "You're thrown into a team with people you've never met before, and you work through the night to get a business idea to pitch the next morning."
But the most telling difference between N36 and other accelerators is the lack of emphasis on getting VC funding. Because the accelerators themselves only get income if the value of the startup grows — and their share of the startup grows in value along with it — the atmosphere can often be so pressured as to appear hostile, with the accelerators' mentors putting immense pressure on the founders to sell themselves to potential investors.
One founder who went through a well-known tech accelerator in New York City in 2011 told The Daily: "I'd say it verges on bullying… [the atmosphere] was so pressured, and everything so high profile, that if you didn't get funding, [the mentors] would probably stop you ever succeeding again."
On the other hand, the N36 atmosphere is more welcoming to mistakes. According to Sepand Norouzi, another McGill alumnus who was in the most recent N36 cohort, "it's all about growing you as an individual. They give you a safe space to either succeed or fail, but either way, you end the programme much better equipped to be an entrepreneur than before."
French echoes this sentiment: "For us [N36], it's much more about the long-term: we're not looking at the next few years, we want to create entrepreneurs who will be active for the next 10, 20 years."
There's another issue that has often dogged big-name accelerators: discrimination. By now it's almost a universally accepted fact that women are woefully under-represented in the technology sector, and sadly, N36 is more or less average when it comes to the gender breakdown: in the most recent cohort, 6 of 36 entrepeneurs were women. That's barely better than high-profile Silicon Valley accelerator Y Combinator, which languishes at 10 per cent.
When challenged on the issue, N36's French used the traditional excuses: "applicants mostly come from STEM-based programs, where women are under-represented," "there's only so much we can do," or "we're neutral to the gender of our applicants." While those things are undoubtedly true — and while it's clear that N36 doesn't actively bar women from its ranks — it's still disappointing to see. Furthermore, only 7 of N36's 28 mentors are female, which doesn't encourage the kind of female-friendly environment that needs to exist as part of a longer-term shift to increase women's representation in technology.
N36 claims that they're addressing "Canada's deficit of high impact entrepreneurs and nation-building business leaders." While that's an excellent goal to start with — and N36 is clearly succeeding in teaching valuable skills to an impressive cohort of budding entrepreneurs — no plan focused on fostering a generation of leaders should be so willfully negligent to one of the most glaring problems, namely women's under-representation, in technology. That N36, a not-for-profit in a perhaps unique position to do something about it, simply sits back and blames a lack of female applicants is a disappointing perpetuation of the status quo.